Need for Senior Pranks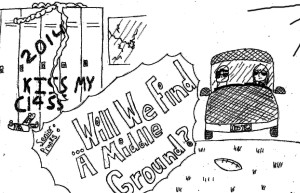 Every senior class wants to be remembered. What better way to exit than to pull off an amazing prank? Although RHS students have not consistently taken part in the senior prank tradition, this custom still holds strong in many schools across the nation.
There is often controversy as to whether a prank is appropriate. With every prank comes consequences and that is something the seniors must understand. However, some pranks come with far greater consequences than others. "It is and isn't harmless. It is harmless in the fact that no one got hurt but it's not harmless in that there is always an equal and opposite reaction for anything you do," Assistant Principal Michelle Sobers said.
About 20 percent of the senior class at Teaneck High School in New Jersey went a little too far in the spirit of senior pranks. The seniors entered the school at night, flipped over desks, urinated in the hallways, sprayed Silly String and did various other acts. This prank may have been funny to the students at the time, but the 63 students were arrested on charges of burglary and criminal mischief.
RHS students have never even come close to this sort of prank. In fact barely any type of senior prank has been attempted at Rockville at all. Because all RHS students have really done is spray paint Baltimore Road, we should think about establishing a true senior prank tradition.
Pranks are a way for seniors to act a little rebellious and bring all the students in the school together for a good laugh. This year, the seniors tried to pull off a prank that really was not a prank at all.
A large majority of the senior class thought it would be funny to not show up to the traditional junior vs. senior powder-puff game. This was totally inappropriate as the event is not only a long-held tradition, but a fundraiser for the Special Olympics.
"I understand that powder puff got postponed and many of my classmates did not want to participate, but I thought it was rude that they didn't show up for a traditional event that sponsored an important cause," senior powder-puff coach Brad Rogers said.
If a senior prank tradition is to emerge at RHS, it is crucial that the future pranks, along with being funny and fun, are also respectful. This tradition should be thought of as a final humorous memory for the school to enjoy, bringing the seniors together to make a mark on the school where they have spent the last four years of their lives.