Rockville Town Square's Hometown Holidays Festival Brings City Together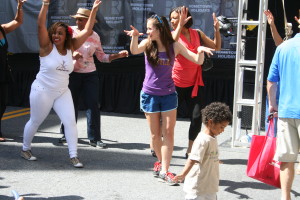 With music, food, games and more, Hometown Holidays in Rockville Town Square was the place to be during Memorial Day weekend. The event had five stages around Rockville Town Square with over 40 performances of local bands, artists and dance crews. 19 restaurants catered the event: plenty of choices for the hungry crowd. The weekend ended with the 70th Annual Memorial Day Parade, preceded by a Memorial Day Ceremony.
Longtime participant in the festivities junior Erin Johnson, looks forward to the event every year. "Hometown Holidays was probably my first concert," Johnson said. "It's what got me into rock bands back in fifth grade." This year, Johnson became interested in folk bands such as The 19th Street Band who performed at Hometown Holidays.
When someone thinks of Hometown Holidays, the first thought that comes to mind is the live music. Many forget how the mayor and county council honor the men and women who have died serving our country. Memorial Day morning, a volunteer band performed with the Rockville Community Chorus, followed by a service. The service included the presentation of colors by American Legion Post 86 and a 21-gun salute.
English teacher Anne Ehlers brings her daughter to the event. "She always runs into people she knows," Ehlers said. "It's always fun for her to catch up with them." Ehlers' only complaint is that the RHS band doesn't play in the parade because she said, "it would be better if they were there."
The event has several fun activities catered specifically to younger kids. They include a sandbox, climbing wall, moon bounces, and a variety of rides. And of course, children and their families can listen to some good music or watch dance crews perform. The parade following the Memorial Day ceremony is also an event for the whole family.
The parade included a Bolivian dance crew and several Boy and Girl Scout troops. The streets were lined with families and young children, eager to see what came next.
Sophomore Anna Llewellyn attended the parade on Memorial Day. Llewellyn said, "Seeing all the veterans and other members of our community really got me in the Memorial Day spirit. It made me proud of all of the people who have served our country."