After Prom Party Brings Garry Carson Magic For Another Performance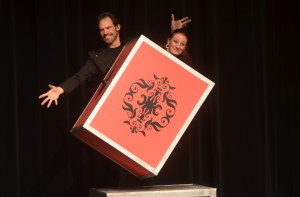 Levitating tables and sawing his wife in half is just another day in the life for Garry Carson, who performed a magic show to raise funds for the After Prom Party (APP) Committee at RHS March 7.
Carson is a Las Vegas magician and illusionist who engages his audience in all sorts of ways, from tricks and illusions to jokes. The show consisted of numerous tricks; some of the crowd's favorites were a table levitating, a girl on a floating board and card tricks.
Junior Dennis Reyes said, "The magician really blew my mind with all of his tricks. I especially loved the way he interacted with the crowd; it really kept the show interesting."
The finale excited the crowd the most. Carson was suspended and handcuffed in a box, while his wife Mihaela Carson was on the ground and pulled a curtain over them both. In one second they switched spots; Mihaela was in the air suspended in the box and Carson was on the ground with his hands off the box, seemingly making it float with his mind.
During the performance, Carson said, "The difference between a magician and an illusionist is that a magician plays tricks with his hands, whereas an illusionist makes you see things that aren't there … what if everything you're seeing on stage isn't real?"
Carson is not only an illusionist, but he is also an entertainer, providing the audience with family-friendly jokes and interactive tricks for all ages. He brought two children from the audience on stage and performed a coin trick with them, engaging them and eliciting laughs from both the children and audience.
A professional by the age of 14, Carson earned a world record for performing at over 8,000 shows, casinos, cruise ships and schools. With his high energy and material, this was not a show to miss.
The APP committee raises money all year to put on the After Prom Party for seniors and their dates at no cost to the students. This party provides a safe, alcohol-free party with games, food and prizes to enjoy until 5 a.m. Since the APP started over 25 years ago, there has not been an alcohol-related death on the night of prom.
The magic show raised $1,080, all of which will go towards the APP. Since this year's turnout at the magic show was not as successful as the last, the APP will host a basket bingo/silent auction at the Elk's Lodge on April 5.
Last year there were complaints that the prices, $20 per ticket, were too high. So this year the price was cut in half for those 18 and younger to just $10. This is also part of what led to a smaller profit this year.
"The biggest reason [it was not as successful] is we were not sure if we were going to have the show on Friday or reschedule to Monday," APP committee member Pam Denion said. "It was all depending on the boys' basketball game. If they won and went on to Friday night, we would reschedule to Monday. So promoting the show was a little difficult."
The RHS community is encouraged to come out April 5 to support and raise money for the After Prom Party or make a donation on www.rhsapp.org.