56-53 Victory Excites Inferno As Boys' Basketball Team Clinches Division Title, Qualifies for Regionals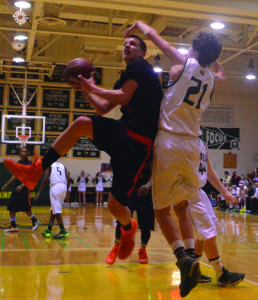 Boys' varsity basketball continued their winning ways with a 16-5 record as of Thursday Feb. 20. With playoffs on the way, the team looks to continue its hot streak, which has included an eight-game winning streak.
In a close game Feb. 20, the team fulfilled the first step in their quest for a title by clinching the division with a stunning 58-53 victory over Damascus. Such achievement has not been received in many years, emphasizing the team's chance of making it far this year and qualifying for regionals.
Coach Steve Watson has been working profusely with the team throughout the season in hopes to play much through the month of February and March in the playoffs.
"We knew we would have talent this year but we have really gelled together and have committed to getting better every day. In years past we did not always handle success well but this year we are more accustomed to it," Watson said.
Led by senior captains Nehemiah Jackson, Brad Rogers and Brian Ball, the team has shown a great deal of improvement from last year, winning four more games than last year with just one more game against Sherwood remaining. Each captain has been on the team for all four high school seasons and is pleased and ambitious about their final season on the team.
In the team's win against Damascus, sophomore guard Ben Wiebusch led the team with 24 points, behind Jackson who scored 16 points and Ball who scored 11 points and had six rebounds. The team outscored Damascus three out of the four quarters.
This has allowed the team to reach the best record they have had in many seasons at 16-5. The team has a record of 11-2 in their conference.
Another win that contributed to the team's division title was their victory against Poolesville Feb. 18. Ball had twenty points followed by Jackson who had 15. Although the team had lost two straight games before Poolesville, they still managed to pull through and get the win.
Ball, who leads the team with an average of 16.8 PPG, (points per game) said, "We plan on winning at least 18 games this season, along with winning a regional and state championship. We have improved this season, especially on one on one on the ball defense, for we have always been a defensively oriented team."
The team has shown much improvement in fundamentals this year, as they dominate defensively and have more loose style of play. During the team's dominating performance against Watkins Mills and Seneca Valley, the team displayed the unity and teamwork that allowed them to escalate in their division.
Junior power forward Kellen Cremins is enjoying the progress of his team this season, as well as staying eager for his next season at Rockville.
"Nothing has changed in the fact that we are playing hard and staying in front. I want a banner in the next two years and I feel like this season is a big possibility of getting that," Cremins said.
The team is looking forward to the playoffs, receiving home court advantage with its first place in the division. The team will be playing their playoff game March 5.