Autism Teacher Uses MCPS Granted iPad As Learning Tool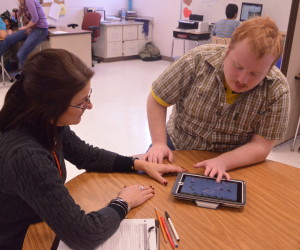 Autism teacher Laura Trumble was recently given money from an MCPS grant for an iPad to use for classroom instruction, the first iPad to be integrated into RHS.
Under the new budget of MCPS Superintendent Dr. Joshua Starr, more teachers and schools will be given the opportunity to use tablets and other technology as part of classroom instruction. In Starr's budget, he recommended investing $3 million dollars for "the purchase of technology, mainly tablets, to enhance instruction and properly deliver new state assessments." Trumble had then applied for the grant and it was accepted by the county.
Trumble has six students in her class who now use the iPad as a communication tool, since some of them are non-verbal. The students are able to download and use various apps and request the apps they want. "I think whether you're a gen-ed student or a student with different needs, technology is a part of our world now, in school or in our own personal lives," Trumble said.
The students mainly use two apps: AutisMate and News-2-You. Autismate is an app focusing on the specific needs of a student. News-2-You, primarily for beginning readers or special needs students, provides news articles, games and recipes that students can read or have read to them.
Recently, her students have read articles on the Super Bowl, Black History Month and the Olympics. Apps like these also help students to form sentences and allow them to receive reinforcement and interaction.
"Tablets could be extremely helpful in the classroom because of the access to different kinds of apps. I think it could enhance a student's learning experience," junior Chuck Reese said.
If integrated into schools, tablets would be kept secured inside the library, but integrating them into classes could pose risks as they could be stolen or destroyed. Similarly, RHS was recently granted new laptops, which are kept in the library. However, the laptops have had several software issues and work slowly, which has kept them unused, according to media specialist Sherry Weiss.
"Right now they're [laptops] primarily used for students browsing the web. The classes like them a lot because some students like to work in the comfortable chairs or use them at a table and work in a group, but because they're so slow and not totally reliable, they're not all that popular yet," Weiss said.
According to Weiss, tablets in classrooms would most likely be used for textbooks, online applications and cloud computing. "MCPS is going to have to really adjust access and access points and it's going to have to be able to handle a tremendous amount of devices and applications," said Weiss.
The integration of tablets into schools could mean many things, one being that students will be able to learn in classrooms rather than going to a computer lab. There are also several school applications such as Edmodo, Turnitin and Edline that have applications on tablets. "I would love to get more iPads but they're very expensive, so for right now we're very lucky to have it," Trumble said.