It's Academic Competes in Playoffs, Ends Season After Quarterfinals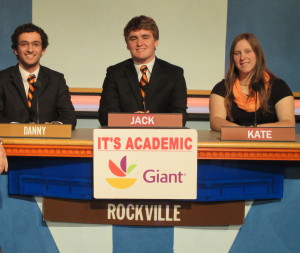 While RHS sports teams compete on the field and court, the It's Academic team continues its long tradition of success and victory at the podium.
Despite having a successful W-L season, the team suffered a defeat in the quarterfinals of their playoffs Feb. 18 to Walt Whitman HS, who the team considers to be their toughest opponent.
It's Academic matches are made up of trivia questions ranging from geography to science and just about every other subject possible. The competitions are formatted so that teams are asked a series of questions and try to correctly answer as many as they can.
The team of seniors Sean Jordan, Marisa Clery, Betsy Gorman, Danny Hoffman and Kate Lipman is led by senior captain Jack Berrigan, who has participated on the team since his freshman year. "It has been a great experience and it has taught me lessons in teamwork as well as enhanced my knowledge of trivia aspects," Berrigan said. "It would be great to bring home a trophy for Rockville."
Berrigan also said that being a part of It's Academic, though hard to balance with school and sports, has provided him with many opportunities. It has allowed him to improve his skills at balancing multiple commitments and parts of life which he believes will benefit him in the future.
The team is separated into A and B teams with the A team consisting of the more experienced players. The players on the B team advance to the A team with time. While the A team goes further in competitions, both teams compete against similar opponents. The team practices every Tuesday and Thursday nights.
Last year the team finished second out of 28 high schools in the Montgomery Academic Beltway League. While this year they only made it to the quarterfinals, the team still considers it a successful season. Coach Dr. David Goodrich said, "It was an uphill fight. Whitman's very good and very fast, and they've beaten us before. They will likely be the team to beat for the next couple of years."
The team's last championship victory came in 2010 when they won the DC Metro Championship and the Baltimore-Washington-Virginia Super Bowl. They also won the DC Metro Championship in 2008. While the team has been successful for the past two years, they have not been able to make it past semifinals.
Many of the seniors on the team understand that this is their last chance to try and come away with first place. After this year, the juniors will have the chance to continue the legacy that the seniors created. Goodrich believes that the sophomore and junior members show a lot of potential.
"We understand that there are going to be big shoes to fill, but we are a talented group and I believe we have the potential to be just as successful," junior Zora Williams said.