Poms Sqaud Earns Fourth Place in First Division I Competition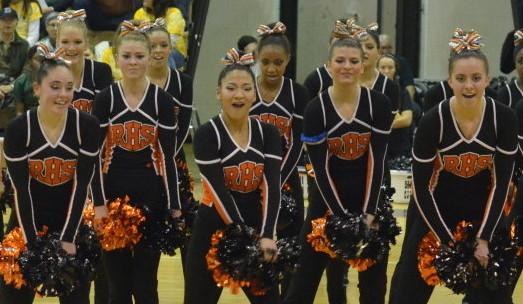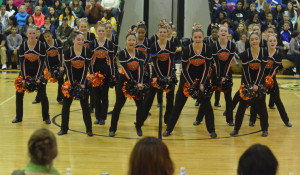 Poms squad placed fourth out of the seven competing teams in their first Division I invitational at Northwest HS Jan. 11.
This year's squad is led by senior captains Christine DiFonzo, Kelsie Hegarty and Jocelyn Hsueh. Each have been on the squad for four years now and spent the last three years competing in Division II. Rockville moved up this year when Paint Branch High School moved down to Division II.
Blake placed first, Sherwood placed second and Magruder placed third at the competition. Rockville did not fall far behind Magruder with their fourth place scoring 746 points, only 26 points away from third.
Technique is extremely important in higher levels of competition like Division I. "We have been working on technique and stamina in order to do well with teams who have more experience," poms coach Lauren Gonzalez said.
The squad has been practicing two hours a day, five days a week since the beginning of football season. "Each of our practices begins with 15 minutes of stretching and then learning new eight counts for our routines; the last couple of weeks we have been working on perfecting the routine," senior Paola Kessel said.
Poms captains are also judged on their individual personal performance and technique. Blake's captain placed first, Sherwood's second and Magruder's third. DiFonzo placed fourth, one point behind the Magruder captain.
The poms perform at all home football games, which gives them opportunities to work on new ideas for their competition routine. "Our main focus is always our competition season; we spend so much time practicing and working hard to be the best that we can be," senior Hayley Egart said.
Out of the eight Division II teams last year, the pom-pon squad placed first at the Damascus invitational and second at the Northwest invitational and annual county competition. This placing in addition to the two first place wins and one second place win in the 2011-2012 season advanced them to Division I.
The squad will have their final competition of the season Feb. 1 at Richard Montgomery HS.