Studying Abroad: A Foreign Alternative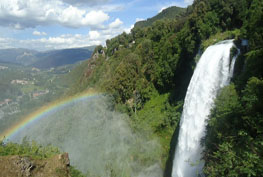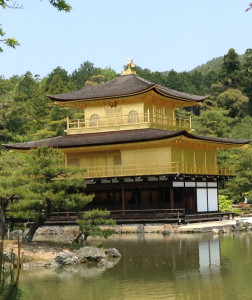 Why view photos of Rome on a promethean board in history class when you can experience it for yourself by studying abroad?
Traveling the globe, experiencing different cultures and learning new languages is an opportunity available to all students, yet it is one which few students take advantage of. Studying abroad is an opportunity for students to earn academic credit and live in another country for a semester, summer or full year. For some it might be frightening, but for others it is a thrilling experience.
Students typically study abroad in college, but high schools offer it as well. Senior Marisa Clery went to Viterbo, Italy last year and junior Scheherazade Goertzel is currently studying in Osaka, Japan. "I had just always wanted to travel, so I researched different study abroad programs and got into School Year Abroad," said Clery.
There are many advantages to studying abroad in high school rather than in college. Traveling away from home before college can help prepare students for homesickness typically experienced in college. Even as teenagers, students can create an international professional network for their future career and learn to cultivate communication skills across different cultures.
Students are also able to enhance their resumes with this unique experience and skills, as it will surely set them apart from students who take AP classes and play sports.
Clery attended a small American style school with the other students in the program, consisting of about 65 kids. They lived with host families the entire year, which could help them gain connections with jobs or work and help them to learn the native language and culture. "By the time I left, I was fluent," Clery said.
However, there are a few disadvantages of going to a foreign country in the middle of high school. Junior year is considered a vital year to many, with schedules full of AP and/or IB classes, standardized tests and college planning. Students may also miss out on a year of sports; quitting a team for a year can impact future performance.
"Missing junior year means that I have a really busy senior year and a lot of my classes aren't with other seniors. And it was a huge hassle transferring my credits," Clery said.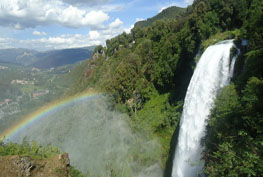 However, the full experience gained when traveling and studying abroad is still worth a lifetime of memories, which will surely outweigh any typical high school memory. Goertzel, who is living with a host family in Japan, seems to enjoy her Japanese life and friends more than her American ones. "What is by far the scariest is leaving my home and family and friends that I have here behind. I have only had one year (and due to how shy I was, and how bad my japanese was at first, more like 6 months) to get close to them," Goertzel said.
Alumna Laura Garvie also experienced studying abroad her junior year of high school in France. As he had attended the French Immersion program at Maryvale E.S., Garvie was already fluent and knew that she wanted to visit. After researching, she had found an organization called AFS that matches high school students with host families and provides support as they integrate into a foreign community, making friends and attending school.
Currently a freshman at the University of Maryland, College Park, her host family she lived with has already visited her in Rockville twice in the two years that she has been home.
Garvie said, "For the first time in my life I had made a real, life changing decision and everyday that year, I was making my own choices. It felt great, and I loved every second of that."