Ski Club Hits the Slopes Once Again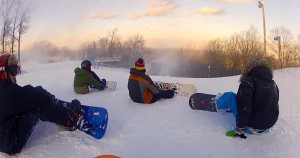 Students stumble off the bus after an hour long ride, eager to jump on the ski lift and shred the mountain. The ski and snowboard club kicked off the start of their season Jan. 10 with a trip to the Roundtop Mountain Resort in Lewisberry, PA.
The 35-member club takes six trips in total to multiple ski resorts including Whitetail and Liberty. Special education teacher Thomas Rea has been the club's sponsor for 20 years. He typically takes two chaperones on each trip and welcomes both staff and parents to attend the trips as well.
Junior Hannah Scanlon has been a part of the club since her freshman year. Although she often goes snowboarding with her family, she also enjoys having a scheduled time to go with just her friends as part of the ski club.
"I love being able to do what I love with my classmates," Scanlon said.
The favorite resort among the club is Whitetail due to the longer slopes it has. Whitetail also features a longer terrain park that stretches down half the mountain as compared to the smaller ones at Liberty and Roundtop.
It features 38 different freestyle options and a half pipe for advanced snowboarders and skiers. Although the East Coast is not known for great resorts, Whitetail is known as an entertaining park for all ages.
None of the students skis cross country; it is all downhill. More students ski rather than snowboard as it is easier to pick up at first. When students first get to the park, club members eagerly get off the bus right to the slopes.
"It is a free for all; everybody does their own thing with their group of friends," senior Will Smith said. Smith has been a part of ski club since his freshman year.
Members' skill levels improve throughout the trips as they become acclimated to the sport, which they only have the opporitunity to partake in for a couple months throughout the year.
"It is important for students to learn how to ski or snowboard because if they don't learn now, they may never," Rea said.
The ski and snowboard club provides transportation for its members. Students are dismissed from school at 1:50 p.m. on Fridays and reboard the bus around 10 p.m. after a night on the slopes. The bus normally returns back to Rockville around midnight.
The club's cost for the season ranges from $170 to $284 depending on whether students want to rent equipment or take lessons. Members also receive a pass called the "Night Club Card" which is good for not only the six trips with the school, but anytime students would like to go skiing or snowboarding past 4 p.m. at any one of the three resorts.
Registration was made easier this year as club members were able to purchase their pass online. Many spots in the club filled up quickly due to the club's popularity.
Upcoming trips will be Jan. 24, Jan. 31, Feb. 7 and Feb. 14.