Shackled by Debt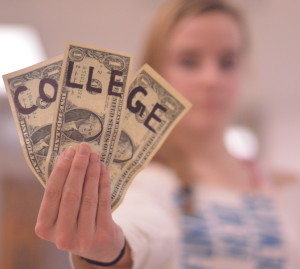 Right now, over 18 million students are enrolled in colleges around the United States. Many kids are feeling the pressure to go to college, and about two thirds of college students today take out loans to pay for it.
According to businessinsider.com, college tuition is 400 percent higher now than it was 30 years ago. Yearly tuition often ranges anywhere from $20,000 to $40,000, not including living expenses. For families with multiple kids, paying college tuition can be practically impossible.
Students in America are constantly told that in order to get a good job, higher education is necessary. However, in today's economy, college graduates are finding those "good jobs" are scarce. Without a good job, it is difficult for students to pay their debts with reasonable interest.
RHS alumnus Brady Petrie, a freshman at Montgomery College, chose to opt out of taking loans. "Starting my college education at MC sounded more appealing than anywhere else because tuition is a lot more reasonable," Petrie said. "Freshman year is an adjustment period, and I couldn't justify racking up a ton of loans going elsewhere when I had other options."
Many teens dream of going to a big school or a liberal arts school. Those students have to choose between going to their dream school and being debt-free.
Junior Raquel Gleicher is one of those students. "Maryland would be ideal because it is big and also reasonably priced, but with so much competition to get in for in-state kids, I worry what I will do if I don't get in," Gleicher said. "I guess MC would be a good option, but I want the real college experience and I'm worried I wouldn't get that at a community college."
While students decide if the debt is worth "the real college experience," adults worry that teens do not fully understand the responsibility of taking out loans. Many students do not realize how long it will take to pay it back, or even how much they will pay.
According to CNN, the average student loan debt is $29,400. For 2013, undergraduate federal loans have an interest rate of 3.86 percent. This may not seem like much, but that adds $1,134 to the total return. That means a graduate making $30,000 a year would be paying close to $250 a month for a total of $3,000 per year, or 10 percent of the salary.
Social studies teacher Steven Watson took out loans for college and was paying them back for a long time. "As an 18-year-old you never fully understand adult responsibility like that," Watson said.
However, loans can be a helpful aid in paying for college if students know what to expect. "I think that in your life, students loans are a necessity for most kids. I don't know if my son is going to be able to attend college if he does not have access to student loans. I think it is becoming a regular part of the college process as tuition and expenses keep rising," Watson said.