Self Defense Classes Kick Off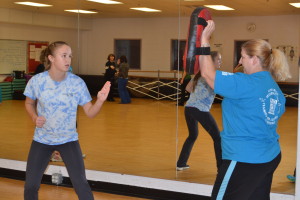 Women's self-defense classes were offered to Rockville women over the age of 12. Provided by Rape Aggression Defense (R.A.D.) systems, the class gave women the opportunity to learn helpful maneuvers and techniques to protect themselves in a dangerous situation.
The class was offered at RHS during the first two weekends of January and was coordinated by PTSA president Dylan Presman.
"In our society, women are vulnerable to trouble so it seemed like a good idea to find a way to provide tools for their own protection," said Presman.
The class was open to all female staff, students, parents and community members, and was offered at a discounted price of $70 for PTSA members and $90 for non-members. Self-defense courses can typically run between $500 and $600, Presman said in an email. This deal was provided in order to encourage more participation.
"I wanted to feel comfortable and know that I could protect myself in any situation," alumnus Angela DiFonzo said. DiFonzo took the self-defense class last year and currently attends the University of Maryland.
Classes consisted of the students learning how to do various punches and kicks, such as the hammer fist, snap kick and swing kick. Along with physical self-defense, the students were taught how to block hits.
Next, the participants learned how to escape if an attacker had them in different positions. The women learned how to escape from a choke hold, if an attacker wrapped his arms around them or if he was laying on top of them.
As a final test of how well the students have learned their protective moves and learned to put their maneuvers together, trained police officers were brought into the final class to perform real life simulations. Both the students and the police officers wore pads to ensure the safety of everyone, but the simulation was true to a real-life situation, and the students were supposed to use their techniques to defend themselves.
"We were able to fight with 100 percent effort and we would have to fight until we saw the opportunity for an escape," said senior Cassidy Lankler.
Many people signed up to take the class with their friends and family members. The class was a learning experience for useful self-defense techniques in a safe, educational environment.