Winter Pep Rally Excites Students for First Game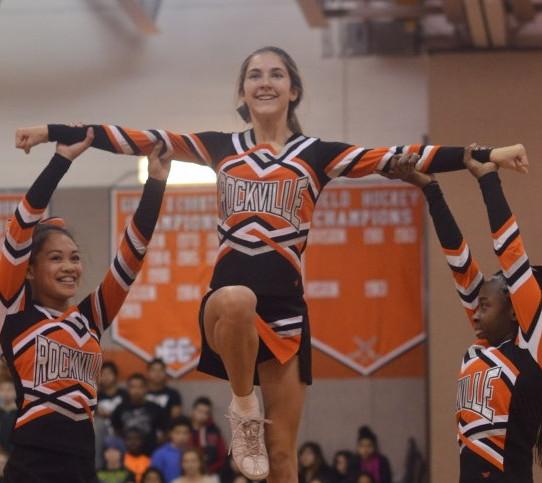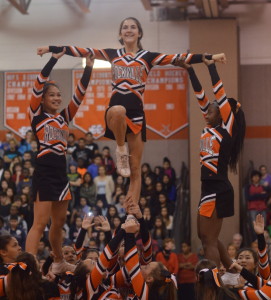 Students and staff became hyped up during the last pep rally of the year, introducing winter sports and the weekend which officially starting the season.
The pep rally began with the introduction of all winter sports teams. Indoor track came out first, with an outburst of spirit for their first track meet. With a new coaching staff and hardworking members, the team hopes to reach success.
Next came out the swim and dive team whose first scrimmage meet was on 12/7. This team was excited as well, when they ran out carrying an athlete dressed in a mermaid tail, swim cap and goggles.
A relay race took place between four members of the indoor track and swim and dives teams, each team was represented by four girls. The girls began with the dizzy bat, each needed to spin around it 10 times and then moved to the task of hitting a birdie into the trashcan. Competitors then had to run to the basketball hoop, make a lay-up, tag their next partner and finally knock down all 10 bowling ball pins. To end the race, they then hopped on their teammates back and ran back to the start.
Freshmen Maggie Reese said, "I had a lot of fun participating in the winter pep rally. It was really cool getting to compete in the relay race in front of the whole school, winning the race was just a bonus."
Varsity cheerleading then performed part of their competition routine during the pep rally. The team lost three teammates after their recent competition so adjustments needed to be made in their performance.
Girls basketball had their first game was against Richard Montgomery on Dec. 6. The lady rams practiced their lay-ups, free shots and different moves during the pep rally to get students energized for their game. Sophomore Paige Hailstock said, "I think the pep rally really got the school pumped for this year's winter sports season."
The student staff basketball game was a major highlight, with five different male staff members and five male different students playing a quick game in front of the school. The game ended with 6-5 score, the staff taking the win.
Boy's basketball came out next with the team's new warm up c.d. for the season playing. One by one the players attempted to dunk, when they succeeded the crowd went wild.
Senior Brian Ball said, "I've been working on my 360 dunk for a few weeks now at practice I was so excited when I perfected it and got to do it in front of the whole school."
Poms performed last to end the pep rally. They spend all of their winter season practices getting their competition routine together. The routine they performed at the pep rally was a preview of what they have put together for competition so far.