Winter Sports Preview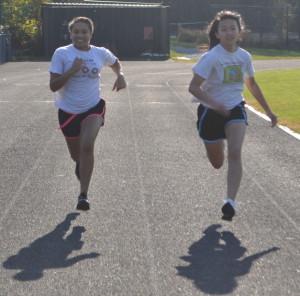 Basketball, swim and dive, indoor track and wrestling are all returning as the winter sports season approaches.
Boys' varsity basketball is beginning their season Dec. 6 with a Friday home game against Richard Montgomery HS (RMHS) at 7 p.m. Since the season ended, the team participated in summer league, fall league and now have workouts Mondays, Tuesdays and Thursdays in order to prepare for the upcoming season.
"I'm looking forward to this upcoming season. Everyone has really grown up in the last couple of years and I'm excited to get to end my high school career playing my favorite sport with a team who I consider my brothers," senior Brian Ball said, who has played varsity basketball for the last three years at RHS.
Girls' varsity basketball also begins their season Dec. 6 with an away game at RMHS. Last season ended with a 7-17 record, but with second year returning coach Kurtis Cross, the team hopes to play stronger and finish with a winning record. Many of the Lady Rams participated in summer league, fall league and winter workouts.
"Playing varsity [basketball] as a freshman was really intimidating at first, but now coming back as a sophomore I couldn't be more excited for this season," sophomore Paige Hailstock said.
Swim and dive will have their first meet Dec. 7 at the Germantown indoor swim center. Last season ended with 19 athletes qualifying and competing in states. Sophomore Griffin Alaniz swam in last year's state championship as a freshman and earned first place in the men's 200 freestyle. The team will have multiple practices a week and be led by senior captains Abby Noll, Ariana Welch, Cole Bennington and John Baldwin.
Indoor track will hold a pre-season meeting sometime in the beginning of November. It is a great way to stay in shape throughout the winter and keep busy, especially for athletes encouraged to participate in sports all three seasons. The team prepares by using the weight room as well as daily speed training. Coaches Kelly Massino and Katie Gross are looking forward to the first meet scheduled for Dec. 7.
Head varsity wrestling coach Michael Alexis hopes to continue the growth of his wrestlers.
"We had a good young core of wrestlers last year who all showed improvement and I expect to see them continue to grow into great wrestlers this year," Alexis said.
Starting Nov. 15, Alexis and the team will begin practice and prepare for various matches as well as the county competition.