18 and Under: BonChon Chicken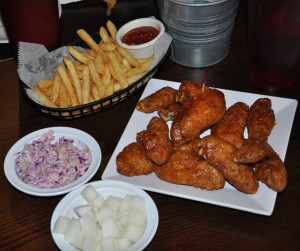 Chicken wings are a classic snack: perfect for a quick bite to eat while watching a football game with friends on the weekend or to enjoy after school. This snack is great for the modern generation as it is tasty and quick.
A Korean cuisine sports bar and restaurant called BonChon Chicken is well-known for their unique take on classic chicken wings, drumsticks and strips. They also offer combo options to enjoy a variety of different kinds of chicken. The sauce choices are not as plentiful as many other local wing shops, but they certainly do hold their own in flavor. The choices are between their soy garlic sauce, hot sauce, or half & half which is a mix of the two.
The half & half wings came out of the kitchen freshly hot, and coated in a batter-like breading that was smooth, yet crunchy. The unique style was a small surprise, but when we bit into the half hot, half garlic soy wings, we became so overwhelmed by the flavor that the texture was almost completely forgotten. The flavor was far from bland, and was definitely distinct from the classic American wings most people are used to. The sauce on the fried wings was deliciously sweet with a bit of a spicy kick to it and the Asian cuisine style was noticeable in the flavor which added to the authenticity of the restaurant.
We also ordered a side of fries. The fries were crisp and crunchy, but there was nothing exceptional about them that set them apart from others.
McDonald's recently created a chicken wing option for their menu. The wing takes on a more traditional style with crunchy breading surrounding the meat and bone. The flavor of the wings was strong and salty, but not as unique as the wings at BonChon. McDonald's also offers more traditional side options such as the famous McDonald's fries.
Upon entrance, BonChon is clean and modern. The atmosphere is lively and peaceful at the same time. It is similar to a sports bar with a large projector screen as well as TVs on the walls. The music plays from quality speakers in the ceiling, but the music does not fit the sports bar theme. The waiters were always attentive and would always make sure customers were satisfied.
The price was expensive for a small snack. Ten wings, a basket of fries and two glasses of water racked up a bill of $14.73. Even though the flavor of the food was strong, it was not satisfying and would leave most RHS students hungry for more.