New Bikeshare Sites Offer Transportation for Teenagers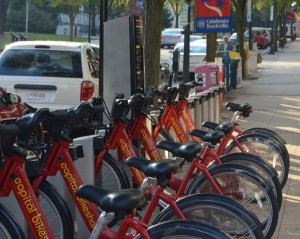 Capital Bikeshare has over 1,800 bicycles accessible for rent at 200 different stations in the metro area, including recently added stations in Rockville Town Square and at the corner of East Gude Drive and Taft Street.
Access to the fleet of bikes is available 24 hours a day, 365 days a year and the first half hour of each trip is free for members, but helmets are not provided. Each additional 30 minutes earns an additional fee. There is a simple payment method and there are plenty of bikes available at each station.
Senior Leonard Silva has not used Bikeshare but believes it is a great way for underclassmen to travel without depending on their parents for rides. "If I knew about the bike share service earlier, it would have allowed me and my friends to get around a lot easier," Silva said.
The closest bike stations to RHS are now in Rockville Town Square and Twinbrook Park. These locations make is easy for commuters to ride to work or school and grab a bite to eat. The company's website http://www.capitalbikeshare.com includes a map of all existing stations and updates the number of bikes available in real time.
Sophomore Mark Pankowski has used Bikeshare multiple times when riding around with friends. "It's great for underclassmen who can't drive. It's cheap transportation and also fun to ride around with buddies," Pankowski said.
Pankowski also said he would have liked to use Bikeshare this past summer to travel along the Rock Creek Trail. This trail follows a mostly wooden route and provides a traffic free route from Rockville to the Washington, D.C. border. Despite its convenient location, the trail lacks directional signs and it is sometimes difficult to determine the main route. Taking unexpected detours along the way is common.
Mike Whalen, father of RHS alumnus Sean Whalen, regularly goes on long distance bike rides. "The bikes are not the best choice for traveling long distances but for riding in the city they are prefect," Whalen said. Capital Bikeshare's bikes are bigger and heavier than bikes made for long distance riding which is more suitable for casual, short rides around the area.
To have access to Capital Bikeshare, users must first become a member. There are six membership options: 24-hour, 3-day, daily key, monthly, annual or annual installment. The Daily Key membership option is beneficial for riders who use the system on an irregular basis. This membership costs just $10 and provides the member with a system key that allows members to unlock a bicycle from any station for an additional fee of $7 per 24-hour access period.