Soccer Program Shows Progress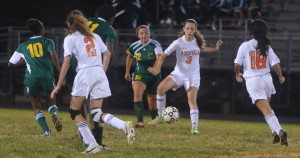 Both of the Lady Rams soccer teams have had successful seasons this year as the varsity team won their first playoff game this season but ended after their loss to Watkins Mill with a record of 6-6-1. JV had a final record of 6-3.
Although the Lady Rams varsity season started off rough, things began to change after the game against Wheaton, according to junior captain Sophia Dillon.
"I think during the Wheaton game our team mentality changed. I think our current success in these past few games has been because of our desire to win," Dillon said.
After varsity's 7-0 win over Northwood, the team was highly motivated and excited for what is left of the season. Although the team has suffered some very tough losses such as the game against Poolesville 2-0, the team has learned to forget about the past and to look towards the future.
"These are two of the most important things in a team; everyone is working as hard as they can, and that we are a family," Dillon said.
Captains are not the only ones who make sure the team is doing their jobs; there is also the coach as well. Varsity head coach Lauren Vorisek ensures that things are happening effectively and efficiently on the field.
"I am trying to push the team to play as a unit. In addition to working on foot skills and game strategy, we have focused on playing with intensity the entire game," Vorisek said.
Not only is the varsity team having a successful season, but with experienced head coach Jeremy Harris, the JV team was successful with a final record of 6-3 this season. Harris is focusing on the future and also hopes to have more success in years to come.
"The plan for RHS is to continue the girls' soccer program that we started this year, which is to get to know the rising ninth graders and develop a summer program," Harris said.
JV players such as sophomore Autumn Bonnano agrees with Harris and believes that the program will become more successful.
"The team has a lot of freshmen, so next year if they continue on JV then they will have improved and feel more comfortable towards each other on the field," Bonnano said.
Based on the JV's previous season's statistics, the team has improved from having three wins each of the past two seasons, to having six wins this season.