Best Buddies Program Form Valuable Bonds
November 11, 2013|106 Views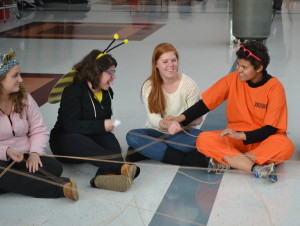 On Oct. 28, the Learning for Independence (LFI) students were matched with a group of student volunteers, or their buddies, for the rest of the year. This "match party" took place from 2:30 p.m. until 5 p.m. and included food, games and mingling amongst the newly-matched buddies.
The buddies are matched through surveys to decide which two individuals have the most similar personality traits and would work best together. Some LFI students may also request to be matched with a student they know from previous experiences through internships or a best buddy from years prior.
"[The program] gives [the buddies] self-confidence," paraeducator Dawn Rundhammer said. "It makes them feel like part of the school more."
At the match party, cards with student's names were handed to their corresponding buddy at the beginning. Each student would then have the chance to get to know their best buddy through a series of planned games.
At the event, the buddies bonded through such activities like holding a ball of yarn, stating a fact about themselves and then tossing the ball while holding the end of the yarn to someone across from them. The end effect was a web that they then had to untangle. Other games such as Halloween Twister and a marshmallow relay race were also played before students ate cake and other snacks.
Such activities helped the newly paired buddies to have a good time together and bond over laughter and festivities, which carry on throughout the years. "If the buddy is dedicated, then they can really build a strong friendship. Many times we see these friendships last for years," Rundhammer said.
Each Wednesday the buddies have a lunchtime meeting. Many also communicate through social networking sites such as Facebook. "This program truly gives them a chance to hang out with new people," junior volunteer Gujri Chadha said. Some buddies continue communicating even after they have left high school.
However, there have been times when a match has not been successful.
"If there is a bad match, the buddy just has to let us know and we'll resolve it," senior buddy Natasha Hill-Byrne said.