Journalism Academy Earns High Honors; Aries Yearbook, Echoes, Rampage Ranks as First Class Publications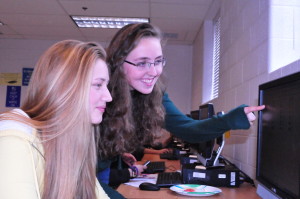 Echoes, the Aries Yearbook and The Rampage received first class rankings from the American Scholastic Press Association (ASPA) due to their outstanding journalistic publications for the 2012-2013 year.
Former yearbook advisor Tim Hibberd left RHS after last school year, leaving English teacher and current yearbook advisor Ambereen Khan-Baker to take his place. "That bar is set pretty high but our goal is to maintain those standards," Khan-Baker said.
The ASPA gave the yearbook a perfect score in creativity and a very high score in content. This year, the yearbook hopes to incorporate more photo packages and write all articles according to AP style, with an emphasis on design and writing. Although staff numbers have significantly decreased from last year, both Khan-Baker and junior assistant editor Lydia Barr do not think this will have a big effect on the yearbook.
Barr said, "This year we have a smaller staff so the people are more dedicated to what they're doing and they want to be here."
The publications of the RHS Journalism Academy are members of the ASPA and therefore can apply for their annual competitions and compete against other high school newspapers, literary magazines and yearbooks. Schools across the nation compete for first place with merit, first, second and third place ratings depending on their overall score.
In order to produce an award-winning yearbook, according to Khan-Baker, "it takes dedication, being motivated, being creative and taking risks."
The yearbook has made significant progress by generating ideas for spreads, pictures and stories. Khan-Baker said that her staff is very dedicated to the yearbook and they are looking forward to the final product.
As Echoes begins its 35th edition, Echoes advisor Sean Pang hopes to be more organized this year. The literary magazine is currently collecting submissions for this year's production. Pang said that the best aspect of Echoes last year was that it "had a very strong art staff … it's made the journal more attractive."
Not only did The Rampage win a first class honor rating from the ASPA, but it also received a first class ranking and marks of distinction from the National Scholastic Press Association (NSPA) and Columbia Scholastic Press Association (CSPA). The newspaper has received a first class rating from these organizations in the past, as well.
These national competitions give each school an in-depth critique on different aspects of their work and score them. The critics give advice on certain aspects such as content, photography, graphic design and page layout. Rampage adviser Jessica Nassau said, "The feedback is just as helpful as the award."
The newspaper received marks of distinction in content and leadership. The Rampage would need two more marks of distinction to be All-American. Nassau notes that strong editors-in-chief are vital aspects of The Rampage.
"We have a great Journalism Academy and these awards are reflecting students' hard work and journalistic standards," Khan-Baker said.