Freshman Gymnast Rocks the Mat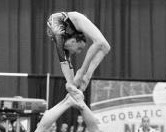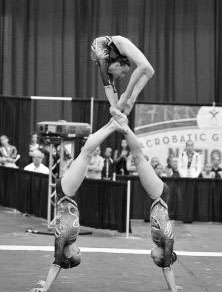 Throughout the halls of RHS walks a student who may look ordinary, but is quite far from it. Freshman Daphne Kirschner has competed in eight different national championships, two international competitions and two world championships for acrobatics.
Kirschner is involved in a sport called acrobatic gymnastics, or acro for short. It incorporates dance, balance, strength and teamwork within a group of two to four. Kirschner has consistently been put in a trio and has always managed to find success.
Kirschner said, "My favorite parts of acro are being thrown around by my partners in dynamic skills, being able to travel a lot and combining dance and gymnastics into one sport."
This past summer at the Louisville, Ky. Nationals, Kirschner and her trio placed first. Earlier in the year they competed at an international competition in Bulgaria and placed second.
"When I do good at competitions I feel proud of me and my trio because we put in so much time practicing and it is nice when that practice pays off," Kirschner said.
When Kirschner was 10 years old she made the junior Olympic team. For the next four years, Kirschner and her trio have consistently been selected for the U.S. National team.
"Daphne is unique because she not only has the talent and physique necessary to excel in acrobatic gymnastics, but she goes above and beyond the requirements to make sure she always stays on top," Kirschner's coach Juli Eicher said.
Kirschner has learned to compromise through working closely in a group with two other girls and has learned discipline through the intense dance and strength training required to be successful in the sport. Kirschner practices four hours a day for five days a week.
Support and motivation is required in order to do any sport at this level. Kirschner's parents and older sister support and motivate her most of all. Kirschner also has tremendous self-motivation, a quality that is admired by all of her coaches.
"My major motivation is to prove to myself I can do anything if I work hard," Kirschner said.
This year, as a part of the U.S. National team for the fourth consecutive year, Kirschner plans to try out for another international competition in Portugal and then for her third world championship in Paris. This year, Kirschner and her trio compete at the senior elite level, which is the highest level that can be achieved in acro.