Marching Band Wins Division 1A, Fifth In State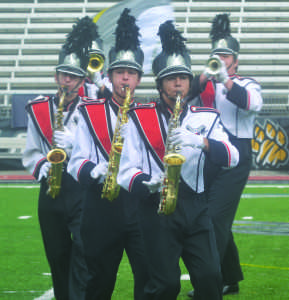 In winning first place at the USBands Chesapeake Bay Division 1A competition Oct. 19 at Towson University, the RHS marching band used a fresh routine with many changed aspects.
The band earned first place overall at the competition as well as the award for best effect and best music, beating Watkins Mill HS and Calvart HS. RHS scored 73.688 while Calvart scored 73.025, coming in second. Watkins Mill came in third to these two competitors.
"It was Mr. Barnes' good leadership plus the fact that he knew what he was doing and the cooperation of all the band leaders that led us to winning. We were all able to come together and win," junior Erica Maroney said.
This year, Barnes created a completely new routine for the band based off of the theme Les Mis rables. It contains costume changes along with completely new backgrounds and props which the band has not used in recent years.
Although this routine was new to the team, it contributed towards a fresh, unique routine, showcasing the team's ability to learn a completley new routine.
"We have a lot more drill this year which is the movement on the field. I think the new visual aspects helped to put more intensity into the show that allowed us to receive a higher score," junior Heather Townsend-Gray said, who has been a part of the band since her freshman year.
Junior band member John Jordan III is also a part of the Baltimore Ravens marching band, and performs in Baltimore at the team's games. His presence in the RHS marching band adds both experience and skill to the group. Jordan plays the tenor drums, which are an important instrument needed in drum line.
The band also has an important youth presence, and felt it was very important for them to place high. Not only to set the stage for future years but to showcase their young talent. Many of the band members have been a part of the team for mulitple years or since they began high school.
Although the team had placed first in their division competition, they still had a state competition left to prove their skill. This included long days of practice and immense preparation to perfect their routine.
Previous to this competition, band director Phillip Barnes had high hopes for the band, "One of the bands, Perryville High School, has been the state champion in our class for five years running. They're our rival because we always come in second right behind them. So, we're looking to defeat them."
RHS went to the USBands Mid-Atlantic State Championship Nov. 2 at the U.S. Naval Academy in Annapolis, Md. The band finished in fifth place out of six bands, competing in the 1A division.
For the competition, the band had learned their routine which included an additional prop: drill rifles. This resulted in RHS scoring 80.9 while first place Perryville High school scored 87.325.
"We have learned from this competition that we need to work harder and put in more effort in able to beat the best," said Jordan, "We should have worked more with the underclassmen to help them learn and understand the routine better."