New Teacher Astonishes Students with Rare Skill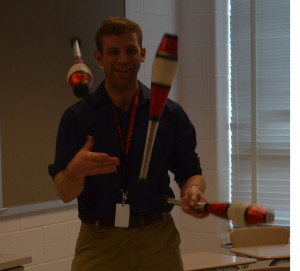 Machete juggling, unicycling and circus performing: typical activities in the life of math teacher David Baker.
Although this is Baker's third year as a math teacher and first year at RHS, his talents consist of more than solving equations. He started activities such as juggling machetes at a fairly young age.
"I joined a street club when I was thirteen with my friends and just started learning," said Baker.
Baker first learned how to do this when his parents were on vacation, and came home to find that he had picked up this new hobby.
However, machete juggling is not his only forte. Baker also unicycles, something that few learn how to do. When he was young, he attended conventions and parades, eventually becoming more talented, able to cycle with torches, Chinese yoyos and learn how to pass things while cycling.
Moving fifteen different times, working as a missionary overseas and working in the circus have allowed Baker to expand and also display his variety of talents. Baker is no different in the classroom, never failing to interest the class with his teaching.
"He uses all of these exciting things from his life to engage students in the classroom," said junior Jordyn Garcia.
"Part of what interested me in teaching was when I started volunteering at an adolescent detention center and with a youth group," said Baker.
Baker's talents are nowhere close to diminishing. He is still learning new kinds of things that are keeping not only himself but all of his students on the edges of their seats. Recently, he has been practicing balancing things on his chin, such as stools and desks. He is also learning how to play songs on the guitar and unicycling aat the same time.
Baker has experienced things most people usually do not get to experience in their everyday normal lives. Baker recalls hitting one of his friends in the stomach with a machete as one of his most interesting life experiences.
"We played games, hitting each other with machetes and the last one standing won," said Baker. Baker has also uni-cycled on a 10 foot cycle.
It is only the beginning of the school year, so there is no doubt among students that Baker will continue to grasp the attention ofstudents with both his talents and teaching abilities.
"He is a great addition [to the math department] and knows what he is doing," said fellow math teacher John Freed.