Meals for 18 & Under; Two Hungry Rampage Staff Members Go to Find Best Local Meal for 18 Dollars or Less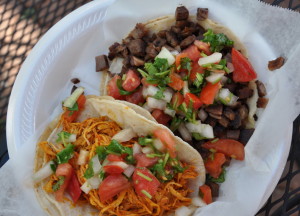 Let's taco "bout tacos, specifically the Taco Bar in the Washingtonian Center, also known as the Rio. This seemingly ordinary taco bar offers the normal beef and chicken tacos, but they also have the option of ordering beef tongue, something unique and special to this special eatery.
Although small in size, the outdoor dining area offers a great place to sit back and enjoy tacos in the refreshing breeze. However, in bad weather, the taco bar does offer a very small and cramped seating area. The servers are helpful, but are often hard to understand due to their strong foreign accents.
Feeling a little adventurous, we decided to order one beef tongue taco and one chicken taco each. The tacos consist of two soft flour shells of perfect thickness with a satisfactory pile of meat inside.
After the tacos were served, the next step in creating a unique personalized taco is a toppings bar where there is the choice of two salsas, pico de gallo, cilantro, lime and sometimes more options depending on how well the toppings bar is stocked. However, one crucial ingredient was missing: the cheese. There was no cheese available at the toppings bar. In order to include cheese in the order, it must be requested when the order has been placed.
The tacos have a consistent texture and every bite releases more succulent juices, with each meat having its own distinct flavors. The beef tongue tastes similar to ground beef, but has a more tender texture. The chicken is prepared in a sort of spice sauce that gives it a salty and herby taste. However, the spice sauce is not overbearing and the flavor of the chicken can still be tasted.
The food is better than expected coming from a restaurant that shares the same building as a gas station. For the price, this quality of food is hard to find anywhere else. Four tacos and two drinks, costs $14.08.