Kids Remain Starving For Open Lunch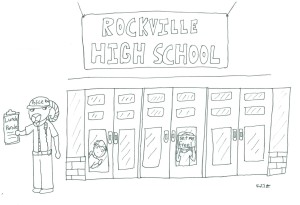 Open lunch is an aspect that students have really wanted for the past couple of years, but in reality it is too good to be true, due to all of the drawbacks that come with it.
An open lunch is when students are given the freedom to leave school grounds and have the choice to eat at any local restaurant or head home instead. Now, with a new principal, students have high hopes in convincing her to change the lunch policy. Principal Billie-Jean Bensen said, "RHS may be too far from restaurants and lunch sites to even be considered."
Bensen makes a reasonable point that the walking distance from RHS to Rock Creek Shopping Center and back is a total of 1.4 miles or about 25 minutes. As a result, students will only have about 10 minutes to order their food and eat it. Even if we could get our lunch elsewhere, we could not enjoy it.
To make open lunch work, we would have to either lengthen the entire school day, or shorten class periods. It seems unlikely that either would happen. Since the schools policy is very strict when it comes to our education, both possibilities fall short into becoming a reality.
Richard Montgomery junior Frances Mejia likes the idea of open lunch, however Richard Montgomery has a 49 minute time block and even with this extensive amount of time, she is not pleased. "I feel very rushed; I think it's just barely enough time," Mejia stated. This shows how even though a 49 minute lunch period seems like more than enough time, the drive to a fast food restaurant and back could take most of the lunch period.
An open lunch would also cause a nightmare in the parking lot. There is already enough frustration getting in and out the parking lot before and after school. Having open lunch would just cause another traffic jam that no one would want to be a part of. By the time students got out of the parking lot the lunch period would be over.
Having open lunch allows students to eat at various food places within range of the school. However, students would not really enjoy the meal due to time limits. As students we should consider the reality that maybe open lunch just is not suitable for RHS.