Q/A: English and T.V. Production Teacher Brian Annear Shares Changes, New Curriculum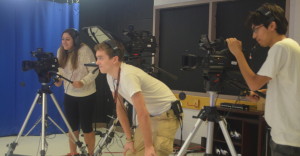 Q: What are your plans for the morning announcements?
A: The announcements are a changing evolving entity. Mr. Bailey [Media Services Technician] and I decided we would start out with this PowerPoint program, and then as we saw where the TV production class was headed and the talent, will and interest they had. we decided to develop a live recorded program. Our goal by the … second quarter is to install a weekly or biweekly news program with anchors and reports.
Q: What sort of things are you doing to prepare your students to do this?
A: Currently the idea is that my class is putting together news packages, which are three minute videos that we can enter into that PowerPoint. These can be special interest stories about staff or events around the school. We're also studying excellent student models, which are other high school or teenage news productions. We're gaining basic elements of filmmaking and television production. Specifically, [we are learning] the storytelling element of news broadcast.
Q: Why are you and Mr. Bailey doing the announcements in this format at the moment?
A: We had two goals; to inform the student body of information that is needed and to give the television production class a chance to not be too wrapped up in the daily grind of producing announcements so that they can be free to make more in-depth news packages. This is a starting point and as we become better at creating news packages we will be able to spend more time multi-tasking so some people can make packages and others can produce announcements.
Q: Why do you want to change the announcements?
A: We wanted to imitate as much as possible the professional news productions. Now we do have various limitations including having one period a day, we are not a full professional news crew, we are learning everything as we go, but we want to let students have a practical sense of what it's like to be in that industry. While we face various limitations, we want to give students the skills to prepare them for the actual field [of broadcasting].
Q: What flaws did you see in last year's announcements that made you want to change them?
A: One thing that Mr. Bailey and I talked about was that it is easy to be monotonous and just have students reading the announcements. We wanted to give people a chance to be anchors and to be seen by their friends while also imitating a real news program with teams of people working on various aspects so that it is a full, informative, entertaining and versatile program.
Q: What is the timeline for the announcements to be where you want them?
For the first two quarters, our goal is to occasionally produce a news show, whether that means biweekly, monthly, we are not sure. For the second half of the year we hope to be more regular with perhaps weekly shows.
Q: How do you think students feels about the current announcements?
A: I have gotten mixed reactions; some people say it is clearer than it was with the text and pictures. On the other hand, people miss seeing their friends, which is important. I don't think it is as important as clarity, but I do want to foster a sense of community and [have] people seeing people they know. I am excited people want to make the announcements better.
Q: How do you think students will react to the new announcements?
A: I don't know, it depends on the quality. We don't want to go back to announcements with an anchor just for the sake of doing that; we want to make a high quality product. I think it will depend on what our students accomplish.