Field Hockey Gains Recruitments
October 14, 2013|78 Views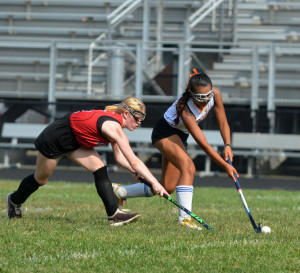 Last fall, the field hockey team did not have enough athletes to form both a JV and varsity team, but this year there are plenty of girls eager to participate.
"Having a JV team is important because it allows the new players to learn the rules of the game and improve their skills" varsity captain Layla Eshack said.
Varsity field hockey coach and history teacher Caitlin Ulmer alongside JV coach Kelly Massino, were able to recruit 16 new girls to the program. Massino, new to the program, did much of the recruiting such as getting in touch with athletes who were not already participating in a sport to ensure participation this year. Massino decided to coach field hockey after coaching JV lacrosse this past spring.
This summer the team participated in a three day clinic with other local high schools such as Wheaton and Northwood. This clinic not only helped improve the player's stick skills but gave the new players valuable practice and time to form bonds with the returning upperclassmen. Workouts were also ran by upperclassmen throughout the summer in order to ensure the team was in shape and prepared for the upcoming season., but recruitment as well/
"Recruiting was a process. I first started talking the field hockey team up during lacrosse season and then we had the girls go out and show incoming freshmen how much the program meant to them," Massino said.
The caching chemistry between Ulmer and Massino carried over from lacrosse season. Having both coaches involved will make it easier to keep building both programs.
"She's my other half, my partner in the program and the two of us are really good compliments of each other," Ulmer said of Massino.
Often unable to recruit two full teams of girls, RHS field hockey remains a growing program at RHS.
"We keep improving each year and with the new talent that was brought we should have a better season than last year," senior Vasilia Hangemanole said.
In the fall of 2012, the team went 4-6, and now plan on working hard to improve their record this season.
"All of Montgomery County is improving, so all games are going to be close, but we should be able to have a 500 season," said Ulmer.
Varsity started out the season with a 7-0 loss against Springbrook, a 2-0 win against Northwood and a 1-1 tie against Seneca Valley. They are hoping to take home a win against Northwest on Sep. 25.
The Lady Rams look to finish the second half of their season in with a succesful attitude. Hopefully this will bring the team a winning record to excite players.