Color Wars Changed To Avoid Hazing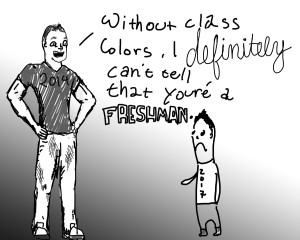 Class color day, a bonding opportunity for RHS students and a once thriving tradition at homecoming pep rallies, is being prohibited by the new administration.
In prior years, each class was assigned a color to wear. Mass numbers of colored shirts were customized so that participating students could spell out unifying slogans when standing in a specific order.
However, due to instances of hazing that occurred last year at RHS and Bethesda Chevy-Chase HS, administration decided it best to forbid the spirit day.
It is extremely disheartening that the immature behavior of select students is interfering with a coveted tradition at RHS. Overall, our class color day has never been in any way, shape or form violent. In fact, it has created unity and self-identification amongst many students.
Nothing is more exhilarating than looking at the sea of red, black, blue or green that each engulf a fourth of the gym. For a 40-minute time period, the entire student body is in each other's company.
Ram day is now in place of color day instead. It is up to the discretion of class members to wear orange, black, white or gray so that no single class is designated a specific color.
Despite the belief that the spirit day promotes hazing, the entire purpose of these activities, in combination with wearing a class color, is simply in the pursuit of representing a grade, bonding and friendly competition.