New Uniform Excitement Results in Disappointment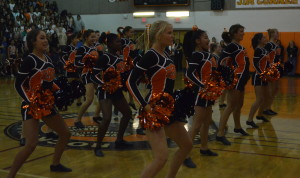 Every four years, athletic teams receive new uniforms designed to enhance performance and keep up with the style for that sport. This fall, the girl's tennis team, poms and cheerleading squad received new uniforms. However, not everyone is satisfied with this year's choices.
The girls' tennis team was anticipating the arrival of their new uniforms, until the tennis dresses arrived. Instead of a light material, the new dresses are made of a heavier material that some girls find hard to play in.
"I liked the uniforms from last year because they were much easier to move around in, and were made of actual athletic [Under Armour] material," sophomore tennis captain Sarah Wagner said.
Like the girls' tennis team, the poms squad was also expecting something different than the uniforms they received. Instead of the typical, heavy shell material, the new shells are flexitop material, meaning that they are stretchy and easy to move in. Despite not being able to wear these new uniforms during the MCPS county competition, the poms were excited for a sleek, all black look and they look forward to wearing them for invitational competitions.
"At first we didn't like the white lines at the top of the uniforms but they've grown on me … the new uniforms are much more comfortable than prior uniforms because they don't have a turtleneck," junior Jennifer Nahm said.
Although the cheerleaders' new uniforms are plain black in the back, the silver sparkles on the front and flattering skirt bring a new look.
"Hopefully, every athlete gets the chance to wear a new uniform," athletic director Michael Hayes said.