Second Year Cheer Coach Provides Stability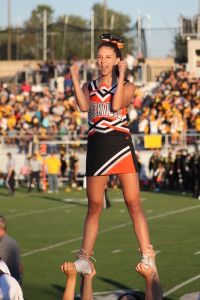 Cheerleading senior head captain Ariana Welch and co-captains Bre Husband and Gabrianna Andrews are prepared to take on this season with a new look and new squad.
Husband said, "This season is going well; the girls learned the cheers faster than last year which has saved us time." Teaching new girls cheers is not an easy task, but has thus far proved successful.
For the first time in many years, the cheerleading squad has had a coach for a second consecutive year, Erin Ward. Their success so far is due to her ability to maintain the team.
Sophomore Paige Hailstock said, "She makes practice really fun but can also control and coach our team."
Although everything is running smoothly now, the captains are concerned about competition season as RHS cheerleading no longer offers a JV team. There are seven sophomores, only one junior and six seniors on the squad. Thus, they must work with all skill levels on varsity whereas other schools are able to prepare members on the JV team and teach them the basics so once they reach varsity they are all around the same skill level.
However, the immense number of underclassmen have also been to the team's advantage. They are all developing leadership skills that will aid them in upcoming seasons once the seniors leave.
Andrews said, "Mykela DeVille and Dani Sobel have been huge assets to our team as they have really stepped up as leaders, even though they are only sophomores."
The addition of these girls has replaced three former cheerleaders, two of whom had to stop because of their commitment to Fearless Allstars competitive cheerleading squad. Being on one cheerleading squad was busy enough, but managing two squads was difficult.
Senior Georgie Beers said, "I loved cheering for Rockville but I wanted to focus on a more competitive level of cheer."
So far, their spirit has been engaging at football games and has fired up the crowd. However, one minor spelling mistake made drew major attention on Twitter. In a rush to make a banner for the football team, they accidentally wrote "Go Rams! Beat the titains!"
After an Einstein student tweeted the photo of the banner, the tweet went viral with 181 retweets and 108 favorites. "Tweef," otherwise known as "twitter beef," broke out between Einstein students, RHS students and RHS cheerleaders. Despite this unnecessary drama, they will not let it hold them back and has only inspired them to work harder than ever. With high hopes, the cheerleaders are looking forward to an exciting and busy season.