New Coach, New Hope For Soccer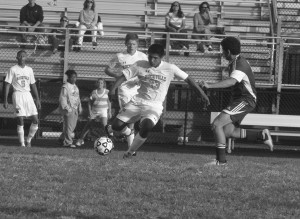 New varsity boys' soccer coach, Julio Zarate, and new junior varsity coach, daughter Sarah Zarate, are both working with the teams and have high ambitions for this season.
"I have been focusing on the players' conditioning as well as the ability to work as a team, because we have a lot of talent," Julio Zarate said.
The team got their first win on Sept. 26 against Seneca Valley by the score of 2-0. This was their first win in over a year. Last year, every game was a loss by two or more goals. With both games close in score as well as intensity, the team has shown improvement.
The players believe that there is an increased work load and intensity. Kursat Acar, senior captain of the soccer team, hopes that the season will be much more successful than last year.
"Coach Julio makes us run a lot more [than last year] and has much more emphasis on fitness," Acar said.
With the physical demand soccer requires, it is important that all players are in top physical condition.
With the coaching changes, the team appears to be more confident in their playing and teamwork. It is already apparent that the new system is working, as the team's performances are improving with each game and the games are getting closer. The players are clearly becoming more of a united team.
The new coaching system seems to be in the same mindset as the players. Last year, the soccer team had a scoreless and winless season. It was apparent that something had to change and with this new coach, their slump seems to be coming to an end.
The soccer team was heavily outscored last year, which strongly affected goalie Ben Neely, for he was the one being scored on.
"Coach has helped build cohesiveness amongst the team. He has made us do drill that build trust and organization on the field," Neely said.
Neely also mentioned that the new coach has approached problems on the team more directly and corrected them at that moment.
The new coach has established a foundation that the team is building off of. According to both of these players, Coach Julio stresses the value of hard work and practice, which seems to be benefitting the teams' performance.