Survey Resutls Reveal that Low Scores on Math Tests May be Result of Inadequete Studying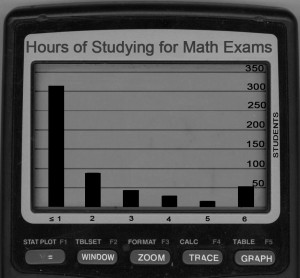 MCPS has been looking for a fault in the system that explains the high rate of failure on math exams, however an informal survey taken by RHS students at the end of last school year suggests that the low scores may be a result of students' bad study habits.
Of the almost 600 RHS students who took the survey, 58 percent said they studied one hour or less for the exams, claiming that they did not care how the exam affected their semester grade, they knew they were not going to do well or that they wanted to spend more time studying for their other classes.
Despite this, most of the investigation is centered on questions regarding the consistency of grading, qualification of teachers, early acceleration and correspondence between curricula and exams. Of the two work groups assembled by MCPS, one is focused on revising the Algebra I, Geometry and Algebra II curricula and the other deals with teachers' and principals' immediate intervention plans.
"We have to focus on certain students and think about how we can be preventative rather than reactionary," Principal Billie-Jean Bensen said. The implementation of each of the algebra intervention plans must be documented, and principals are required to send regular progress updates to their community superintendents.
PTSA President Dylan Presman, who revealed the problem to the public last spring, is a member of the other work group.
"I have to admit, when they first asked me to be part of the group, I thought it was a load of rubbish," Presman said. "I thought it was MCPS just trying to make it look like they were doing something, kind of like a talking group. But it turns out they are actually taking action."
Presman was first alerted to the issue at one of the quarterly Board of Education meetings. When it became apparent that several principals had alerted MCPS of the problem and had not received a response, Presman requested further statistical evidence from previous RHS Principal Dr. Debra Munk and then spread the word.
"I'm really glad that this problem is being resolved," junior Maria Melgar said. "I know people that failed their exams, and it's good to know that things are going to get better."