AP Exams Held Off School Grounds at Army Reserve Building; First Off-Campus AP Testing in Decade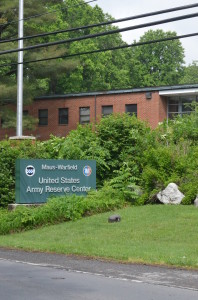 AP exams were held at the Army Reserve building just down Baltimore Road this year, the first time in over ten years that testing was held off of school grounds.
Since testing was held outside of the school building, many of the issues of years past were eliminated. There were no bells ringing, students walking through the halls, announcements over the PA system or teacher relocations.
Testing was moved off-site "to give students a more authentic testing location," said AP Coordinator Debra Williams, who is in charge of managing AP testing at RHS. Williams realized that many other local schools were letting nearby facilities host their testing instead of doing it themselves.
Williams got approval from Principal Dr. Debra Munk, and then searched for local facilities. After considering the options, she chose the Army Reserve building, which was conveniently only two blocks away. She consulted the facility manager Ann Dittrick, who was very open to the idea and offered Williams use of the facility for testing free of charge.
Williams also got the idea to use the Army Reserve building because RHS used it in the years prior to September 11, 2001. However, following the terrorist attacks, military facilities essentially went on lock down from the public, and RHS had to run testing on school grounds. From that point up until this year, teachers were removed from their rooms for testing students and they faced the distractions of a normal school day.
Students had mixed reactions towards the move. "In the reserve building, we weren't interrupted like with IB exams [on school grounds] which had the bells and announcements going on throughout the day," said senior Aaron Weerasinghe, who took two AP exams this year and five altogether. "And of course, teachers weren't relocated, so it was great for everybody."
However, many test takers disagreed, saying that distractions were still widely prevalent during their tests. "I got through the test alright, but there was this vending machine near me that they had to unplug because it was so louda�� and at one point, there were even lawnmowers working outside," said sophomore Ali Ahmed, who took the AP NSL exam this year. "It wasn't that bad, but they could've done better."