After First Winning Season, Rams Look to Surpass Last Year's Success in Postseason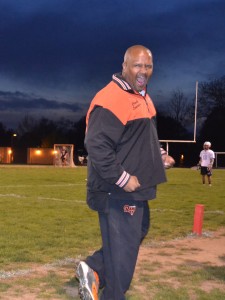 Coming off a season full of successes, the Varsity boys lacrosse team is hoping for another season with similar triumph. Although there are many changes from the team last year the Rams still believe they can have an accomplished season.
The team experienced its best season in school history last season going 8-4 and losing to Walkersville HS in overtime by one point in the playoffs. "We played very well as a team and there was a lot of chemistry between us," said junior Leonardo Silva. Silva feels that the team can continue to play that way for the remainder of the season.
While the team does have many returning starters they also lost five seniors, three of them being starters, including captain and scoring leader Conor Jordan. Jordan, who is now playing lacrosse at St. Mary's University, was one of the highest scorers the school has seen and his presence is missed on the team.
The team feels that despite his absence and that of many others they will able to have similar success this season as they have had over the years. Jordan's former teammate and younger brother Sean Jordan said, "Although he was a great asset to the team, we can still succeed without him."
With new players making up the team, head coach Kurt Kohler has had to readjust his strategy to better utilize the players at hand. While last year the team's offense revolved around Jordan, this year Kohler has had to utilize the individual strengths of each player. Because there is no single player who can individually lead the team, other players have had to step up this season to continue the success of last season.
So far the team is succeeding despite the loss of many key players. With a 8-1 record thus far, the team feels that these next few games will be a good chance to improve on an already good season. This success that the team has found this year is credited to the team's well roundness and chemistry. "[Our success is attributed] to the fact that these players have been playing together for the last four years as a cohesive group," said Kohler.
The Rams' most recent game was a 14-5 win over the Einstein HS Titans. They were led in scoring by Lucas Flavell with _ goals bring his goal total _ for the season. After leading 4-0 early in the game, Einstein came back to make it a one goal game at the end of the first half. Despite the run put on by Einstein the Rams' were able to hold them off and ultimately win the game. With this win the Rams' record is now 8-1 already matching their win total from last season.
Although most people would think that a team losing their star player and other seniors would stuggle, the Rams have disproven this idea with their quality of play so far this season. "We have been a very balanced team," said Kohler, "When our offense or defense isn't producing, the other one is able to." As the regular season comes to a close the Rams will seek playoff success as they continue to hopefully their best season in Rockville history.