Softball Clinches 2A/3A Division Title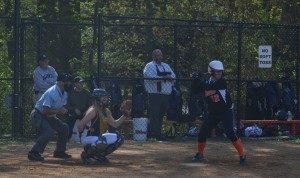 Competing with 4A schools in nail-biting tie breakers and winning their 2A/3A division title, the Lady Ram's Varsity softball team is truly hitting it off this season.
The team's record is 9-1 as of April 24. They have beat teams that they have lost to in previous years such as Walter Johnson HS, Poolesville HS and Magruder HS. Last week, the Lady Rams achieved an exciting 2-3 win against Magruder HS who was named the Class 4A West Region champion of 2012.
The team has seen a dramatic improvement from last year's 5-10-1 record. "Our team is a lot more cohesive and more confident in our skills now that we have this title," said senior first baseman Rachel Ribaudo.
Over the years, the softball team has encountered problems due to inconsistency in coaching. This year, the team has managed to overcome these challenges with the help of new head coach, Matthew Quinn. Quinn recently graduated from the University of Maryland, where he pitched on their Division I baseball team. With his athletic credibility and love for the game, he was recruited to coach this year's team.
Quinn is big on consistency so the girls practice the same techniques and drills each day in order to improve. The girls have become a lot closer as a team this year both on and off the field. Junior left fielder Elizabeth Barrett said, "We have really great potential for playoffs if we keep playing the way we've been practicing."
The team prepared for the season by attending workouts throughout the winter, including an hour in the weight room every Tuesday and Thursday. They also work in the weight room after practices once a week.
This year's team has four new varsity members, including two strong freshman players. Freshman Erin Moriarty, starting second baseman, and freshman Katie Kelly, starting right fielder, has helped contribute to the team's improvement. Despite a foot injury that kept Moriarty on the bench for about four games, the team was able to maintain their success.
"I tell them to go out there and play one pitch at a time, to just play hard and treat every game like it's their last," Quinn said. Quinn believes that the girls will continue their success this season and has faith that the team will make it to the state tournament.
Not only does the team have high hopes for the rest of this season but also for next year as well due to the fact that they will only be losing four seniors. Quinn is not only ensuring success for the team this season but he is laying down a strong foundation for years to come.