School Goes Global on International Night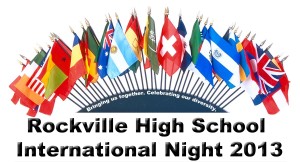 Travel the world without even leaving Rockville by attending International Night May 3 from 6 to 9 p.m.
The event will start off with a show featuring performances from all over the world, including the step team and the Latin dance club. Afterwards there will be an international potluck dinner where students will present food they made to share with others, accompanied by live music performed by members of the instrumental music classes.
International Night is being organized for the second year in a row by Spanish teacher Madeline Rudman. For many years, RHS had a "Culture Fest" which was quite similar to what started last year, known as International Night. "International Night supports Rockville's vision that we are one school, living in one world, with one future," said Rudman.
New this year is a poetry contest where students may write a poem between 150 to 200 words about diversity or identity. English teacher Sean Pang is helping to organize the poetry contest and other performances. The winner of the poetry contest will win a $50 gift card to Barnes and Nobles and have the opportunity to perform his or her poem at International Night.
In previous years, the potluck dinner had food from every continent, such as kimbop and kimchi from Korea, spanakopita from Greece, lumpia and dumplings from the Philippines, lasagna from Italy and shish kebab from Turkey.
Students who are interested in performing at International Night have the responsibility of choosing their music, wardrobe and dances, which all have to be approved by Pang. The performances are going to represent a wide variety of different cultures, including Thai and Bolivian.
The cafeteria will be organized by continents so that the foods from different global regions will be grouped together. "You can try food from all around the world that represents people and their culture without leaving Rockville," said Rudman. Along with learning how to make a new meal, students also earn SSL (Student Service Learning) hours for preparing the dish and going to International Night.