North Korea's Nuclear Threats Seem Unlikely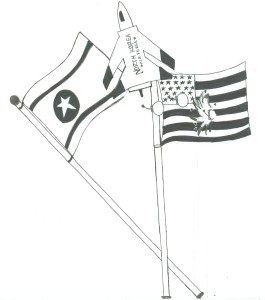 North Korea threatened to bomb the United States on March 29. They are surely bluffing. North Korea has made similar threats against the U.S. and South Korea, but they never actually went through with their plan.
According to The Washington Post, North Korea does have the ability to fire missiles at South Korea and Japan, which both host United States military bases. North Korea might be more powerful than both countries, but many argue that they have absolutely no power over the U.S. They are, therefore, not a threat.
However, some believe the danger is present. "I think North Korea is going to bomb us because they have been testing their missiles, so that means they're getting ready to attack," said sophomore Gujri Chadha. But she is not too worried about the situation. "The U.S. has everything under control and they can handle anything," she said. "Our military is one of the most powerful ones."
North Korea indeed has been testing missiles to prepare for a possible attack. However, the United States has set up new missile defenses in Guam just in case North Korea does choose to strike.
"I'm not really sure they will bomb us," said sophomore Jodie Pico. "I feel like they are just threatening us to get us scared." Many other students agree with Pico, arguing that North Korea just wants to frighten us. "I don't think they have the power needed to do it," said Pico. Disagreements between North Korea and the United States began after World War II. The United States aided South Korea in repelling against North Korea's invasion during the Korean War, which started conflict.
Tensions have been growing since then and now it seems that they are reaching their breaking point with the new bomb threats.
It is unlikely that the United States will get bombed, due to North Korea's lack of technology, power and ability to drop a bomb that will reach the U.S. successfully and cause destruction.