Pro/Con: In-State Colleges Offer More Benefits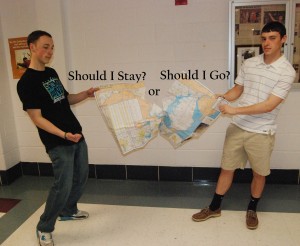 Pro: Vincent Barr
You put Old Bay seasoning on just about everything. It is hard to go a summer without visiting Ocean City. And you just love the way that Maryland flag looks on your bedroom wall. Face it; you are a Maryland person and nothing is going to change that.
As the end of the year is approaching, students of all grades have reached another stepping stone on their path to college. Students may be exploring their options for the future: looking at factors such as enrollment, location and guy/girl attractiveness rankings to make their decisions on where to go. But with all major components considered, staying in state for college is ultimately the more viable option, and will give you much more "bang for your buck."
Although students cannot seem to wrap their minds around the concept, money is a very important part in the college decision-making process. It is well known that public universities charge much lower tuition fees for in-state students as opposed to-out-of state. According to U.S. News & World Report, tuition costs for public universities rose by an astonishing 8.3 percent in 2012. Be kind to your future self's wallet.
University of Maryland, with tuition and all other fees, only costs about $23,000 a year. Towson University costs approximately as much, as does Salisbury University. Although no college in today's economy can actually be called cheap, choosing an in-state school (considering out-of-state tuition) is like outlet shopping. For example, University of Alabama, a popular choice among the RHS class of 2013, charges upwards of $40,000 a year for out-of-state students.
Leaving to go out of state can also cause an anxious feeling for teenagers. For those looking for a more comfortable location, going to school in Maryland will be the best way to go. "Students will always be able to have somebody to go to, somebody they already know," said English teacher Sean Pang. Out of the 200 people who graduated from the 2012 class, 119 stayed in state.
Staying close to home will also provide students with a way of coming back home easily if any sort of emergency were to occur. Having family close by is important in case a student gets that freshman anxiety and wants to come home for a weekend or two. If a student stays in state for college, the furthest they would have to travel to go back home would be four hours, making their college experience a bit more soothing.
Con: Nick Cropper
Tired of Maryland and want to see what the rest of the country has to offer? Going to college out-of-state is the best opportunity a student can have to experience a whole new lifestyle.
Before students have to settle down and find a job, college may be their last chance to do everything that they have always wanted to, whether applying across the country or even going abroad for school. There is a world of possibilities for students, and no matter how costly it may be, the reward will be well worth it.
Going off to college gives students their first taste of being in the real world. This allows students a chance to develop on their own, away from their usual environment. Going to a school in an area that students are unfamiliar with forces them out of their comfort zone, allowing them to grow and mature.
Students will also have the chance to find the college that is just right for them. Depending on the location, in-state colleges might not have everything students are looking for in their dream school and although there are advantages to in-state colleges, they might not provide the college experience students desire. Giving students a greater variety of colleges to choose from ensures that they are sure to find the perfect school for them.
Many colleges are limited in majors that they offer to students. Being able to expand their search outside of the local area ensures that students can find a college that fits the goals that they wish to accomplish. For students who already have a career in mind, choosing the right college to support that career is essential, and having a wider range of options to choose from helps students advance in their career goals.
What stops many students from pursuing a college out-of-state is the financial aspect. College can be extremely expensive after adding up the costs of tuition, housing and a meal plan. After crunching the numbers, many students are discouraged and reluctant to choose the out-of-state option, despite how interested they may be in the school.
However, there are multiple programs that can help students cover the costs. Many students can qualify for financial aid in addition to the numerous scholarships available. Scholarships may not cover the entire cost, but can significantly ease the burden of paying for college. Students should also consider taking out a student loan. Loans are expensive and probably will not be paid off until the students are in their 30's, but a college experience is priceless.