AP Tests Looming in the Distance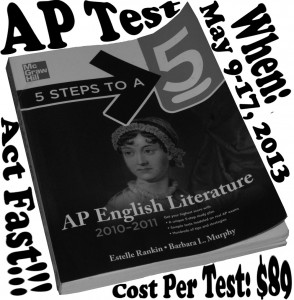 AP tests are administered from May 6 to 17 and are pre-planned so every AP student in any given class all over the country all take the test on the same day.
"Preparation, to me, isn't reviewing the week before the exam, it's going back and reviewing over and over to make sure you understand the content," said administrator Galit Zolkower.
To help prepare for the AP tests, students can refer to the College Board website information about the specific costs of the tests, which are $89 each. Students can also receive financial aid through the College Board website. If a student comes from a low-income family, the student will be required to pay a reduced rate of $53 dollars for an exam rather than $89. The first ever RHS parent meeting for AP test was held on Jan. 22.
Colleges are constantly raising their requirements for performance on AP exams and in AP classes. For example, the University of Pittsburgh will only accept a score of three on an AP exam in chemistry or art history, however, all other AP scores must be a four or above on a scale of one to five.
Expectations for students are not only rising for AP scores. The average GPA of students accepted into Penn State is a 3.57, which is a B average. Requirements of classes taken in high school are also rigorous. In order to be admitted to the University of Maryland, a student must have a minimum of three years in history, math and science as well as four years of English.
"It's important to not only study just before the exam and cram in as much as you can; you need to review after each unit and make sure you really understand," says junior Jacob Griffiths-Randolph. Also, teachers are constantly warning students of things that they may see on the test, making what to prepare for more widely known.
The extreme pressure surrounding college applications may scare students, making them shy away from things like AP classes. However, taking AP classes shows colleges that students are willing to challenge themselves.