Swim and Dive Team Ends With an Even Record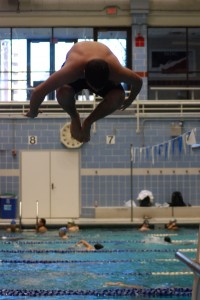 Swim and dive team at RHS is held together by hard work and vigorous practices. While the early morning practices and meets can be a tad annoying, the team is always ready to compete or practice with all they got.
Every Monday, the team is expected be at the door of the Olney indoor pool at 5 a.m. While this may seem terrible and nearly impossible to some people, the team reluctantly does it without trying to change the rules. "It's a great way to wake up in the morning, and I can usually get some homework done or get some food after practice," said swim team member, senior Chris Jones.
Practices are usually pretty routine. The swimmers all go in the pool and wait for the coach to tell them what to do. They swim for 75% of the time. Their break is when they are waiting for everyone else to finish. The chemistry within the team is warm; everyone seems to get along and joke around with the coach.
The team practices twice a week, on Monday at 5 a.m. and Wednesday right after school. Their Monday practice is at the Olney indoor pool while the Wednesday practice is at the Kennedy Aquatics Center where they practice for about an hour. "I enjoy the short practices. It gives me the ability be on a sports team but still have time to do my school work," said freshmen Rachel Bargeski, a member of the swim team.
The dive members of the team simply practice their personal dives and try new things. They take turns going off the diving board and challenge each other to do better than the rest. Diving is a skill that requires a lot of natural talent and bravery. It takes guts to do two or three flips while falling to the water, where landing the wrong way can lead to a serious smack.
Some athletes on the team go back and forth between swimming and diving. Sophomore Joey Lynch is one of those people. He just goes with what he is signed up for without a complaining. One of the meets, a kid threw up in his lane when he had to swim next, but in order to keep things going, he said "Let's get this meet moving" and prepared for the swim.
Currently the boys half of the team is three and three. With last year's record being three and two, it is hard to say if it's an improvement or not. Although the girls Varsity is at a solid four and two.
Most of the members have been swimming their whole lives and this is a way to represent their school in something that they are good at. Though everyone tried their best, the season could have ended on a better note. "This season could have been a lot better," said Coach James Castonguay, "I feel like if the team was more serious about practice we could have done better."