Two Students Welcome Father Home After Six Month Tour on Surgical Team in Afghanistan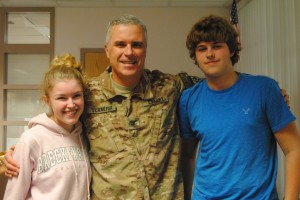 For the past six months, senior Madeleine Schaefer and her family have gone to sleep every night, not knowing whether her father, Colonel Richard Schaefer, was safe or not.
Madeleine, her mother Pat and her brothers, sophomore Luke and sixth grader Mark, were awaiting the return of their father, Richard, after six months serving as a military doctor in Afghanistan. Dr. Schaefer worked with a surgical team in Eastern Afghanistan, providing trauma care for wounded U.S. soldiers and Afghan civilians.
It had been a long six months for the family. "The most difficult thing was getting used to my dad not being in my house or even just a phone call away," said Madeleine.
While the family was able to stay in touch through email and Skype, it was still a challenge. "There would be some times that I would miss his call and I wouldn't be able to just call him back," she said. This was especially true during the school year, because of the nine and a half hour time difference.
Dr. Schaefer has been on active duty as an orthopedic surgeon for nearly 28 years, so the family has gotten used to a somewhat unstable life. Since she was born, the family has lived in Minnesota, Maryland and Hawaii, before returning to Maryland. Yet Madeleine will never really get used to not having her father around. Not knowing what he was doing or where he was remained a heavy burden on her mind.
So when Oct. 30 finally came around, Madeleine was emotional. Her nerves increased because Dr. Schaefer's flight arrival was at the same time as Hurricane Sandy. Thankfully, he was able to make his flight without any problems. Waiting at the airport, Madeleine said, "It seemed like he was taking forever to get off the plane."
After finally seeing him again, the entire Schaefer family went straight out to dinner at Mama Lucia's, where they talked about all that had happened while he was deployed. "It was nice for our whole family to be back together again," said Madeleine.
Back in the neighborhood, Dr. Schaefer was greeted by posters made by neighbors. Neighbors also decorated mailboxes with yellow ribbons to commemorate his return.
One of the things he and Madeleine both missed was his attendance at Rockville sporting events. "I'm a huge Rams Fan," he said. "I had Rockville Spirit Wear hanging in my sleep tent in Afghanistan to remind me of home." His orange Rams knit cap came in especially handy during some of the colder nights.
He wasted no time in getting back into the stands. He watched his daughter play in her playoff volleyball games, and also made it in time to attend the last home football game. At the game, he was greeted warmly by the booster club and other parents.
The Schaefer family does not know if he is home for good. While there are no current plans for him to return to war, he is expected to stay physically fit and ready. Nonetheless, Madeleine said, "Words cannot express how happy I am that he is finally home safe." Safe to say, the family is going to enjoy every second.