Veteran Teacher Up For Prominent Gazette Award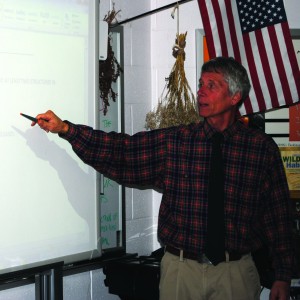 Great teachers are rare and the acknowledgement of them is even rarer, so the RHS community is excited to see anatomy teacher Gregg Gochnour nominated for the Gazette's prestigious "My Favorite Teacher" award.
Due to his hard work, determination and creativity, Gochnour was nominated by students for the contest. The nomination requires an application, including an essay, explaining why that teacher should win the award.
Students were allowed to vote as many times as they wanted from Oct. 25 to Nov. 9. The results of the contest will be announced Dec. 12. "I enjoy getting students excited about life sciences and discovering new cool things about biology," said Gochnour.
On top of his recognition for this award, Gochnour is known throughout the school as an all-around great educator and role model. The satisfaction with his teaching does not stop at the student level, as fellow teachers and administrators are also impressed by his teaching skills.
Many students are pleased with the teacher's nomination. "I'm really happy he was nominated. It's good to see him get some recognition for his great teaching," said senior Jake Raiten. Student interaction is a big part of Gochnour's teaching plan, which keeps students excited about the daily lessons.
Always working, Gochnour can often be found picking tomatoes in the green house for horticulture or dissecting cats in his anatomy and physiology class. He takes pride in his teaching and wants students to be as excited as he is about what they learn.
Not only is Gochnour recognized for his abilities among the student body, but he is also recognized as a hardworking colleague among RHS staff. Assistant principal Galit Zolkower has worked with Gochnour over the past two years and said, "He is a great guy. I've seen him do whatever he can to help the kids." Zolkower believes he has a good chance of winning the competition when the winner is announced Dec 12.
The top nine teachers that receive the most votes are awarded a prize of $500 or less. Regardless of the results, the Rockville community knows Gochnour is a valuable asset to the school. To anyone interested in becoming a teacher, Gochnour said, "Be prepared to be exhausted and inspired every day."