Ultimate Frisbee Follow-Up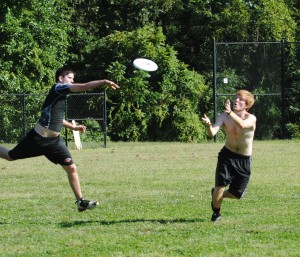 Since the formation of Frisbee club, all the members' minds have been set on one thing: "State championship or bust." So far they have lived up to most the expectations and hype that surrounds their talented team.
News is spreading around the county that the RHS Frisbee team has the possibility to do some damage once the season rolls around. Although they have only had two scrimmages so far, they have won both in convincing fashion. Co-president senior Timmy Toussaint said, "With the success we have had so far, I feel that we will do very well once the actual season comes around."
Ultimate Frisbee season really begins in the spring, but with all of their scrimmages in the offseason, the team hopes to intensely prepare. Team member Jake Raiten said, "If we keep doing well in the offseason, I really think we have a great chance to contend for a state championship in the spring." The team is staying positive and setting their goals on one thing: bringing the state championship to RHS.
The first scrimmage was against Walter Johnson High School on Saturday, October 27. The RHS team played a hard-fought match which led to a commanding 13-9 lead. However, the game was cut short because of a slight altercation between players. Although the altercation was unfortunate, RHS still came out with a win, resulting in a great start for the offseason.
In the second scrimmage, RHS matched up against Quince Orchard High School. The game was played under very windy conditions that greatly affected the game. Senior fan Michelle Miller said, "The wind definitely had an effect on the game, but a win is a win." Due to the windy conditions the game ended in a one point win for RHS instead of following the usual win-by-two rule.
The 17-16 win over Quince Orchard High School gave RHS a stellar 2-0 record that gives them confidence as they finish out their offseason and move into the regular season. Co-President senior Zack Zweig said, "As long as we do not lose too many players to spring sports during the regular season, we will continue winning and we will be able to compete with any team in the state."
Last year Churchill won the state championship, but RHS was not in the tournament. This year if RHS continues their success, they could come out, surprise a lot of people and make a deep run in the state tournament.