Girl's Soccer Pushes Ahead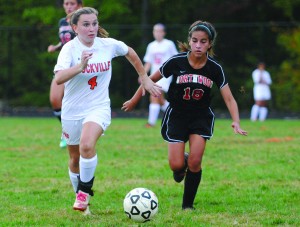 As defending division champions, the Lady Rams varsity soccer team hopes to travel far into playoffs this year with a young team led by new head coach, Lauren Vorisek.
Vorisek played soccer at St. Andrew's Episcopal School in middle and high school. She has coached a variety of girls' sports in Montgomery County for the past six years, including JV field hockey, JV softball, soccer and poms. Vorisek was offered the opportunity to coach after working as assistant coach with Coach Kari Tracey last year.
Starting workouts with the girls over the summer, Vorisek prepared the team physically for the season. "She pushed us hard to get us where we needed to be," said senior forward Michelle Miller.
The team this year is very young, consisting of only four seniors, six juniors and eight sophomores. Senior Kelly McTighe and sophomore Kathleen McTighe both hold positions as team captains. They play defense and work well together to take charge during practice and in games.
Another captain, junior Samantha Bauer, has been a critical part of the team, creating scoring opportunities left and right for the Lady Rams. Although most sports teams only have upperclassmen serve as captains, Vorisek said, "I think it's good to have a captain at every level; that way everyone can relate."
If the team wants to continue their dominance in the division, they will have to remain focused and determined until the end of the season. Defensively, the Lady Rams must prevent scoring opportunities against schools such as Damascus and Poolesville. Also, dynamic players such as senior goalie Alexis Frager and sophomore forward Lauren Goldstein must continue to make game changing plays. "I feel that this has been my strongest season yet," said Frager.
Although recent games against Richard Montgomery HS and Bethesda Chevy Chase HS were losses, the girls played very well against those teams. The Lady Rams put up a strong fight in these two tough match ups, and the players all concur that they played well as a team. The Lady Rams finished the regular season 5-7.
Although they competed in each game with the highest level of effort, the Lady Rams are looking to improve with their newfound talent and achieve a winning record, and maybe even another division title. With a new head coach and solid senior leadership, RHS soccer may have one of their best seasons to come.
Though the team is relatively young, they possess a lot of talent which will continue to develop and grow in the next few years. With a lot of hard work and dedication, the team proved that they could compete at a very high level. Unfortunately, the Lady Rams were not able to capture the 2012 division title in a tough 1-4 playoff defeat. However, as long as they can continue to display great team chemistry and create scoring opportunities, the lady rams will have another opportunity at the division title.