More Success Ahead For Poms In Competition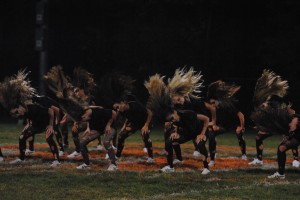 Having won the highest competition rank for a Division Two squad last year, the 2012-2013 Poms team prepares to enter this competition season with an equally high level of performance.
The team is constantly thinking of new routines and ways to improve. With a new creative routine for each Friday's home football game, the crowd remains engaged and impressed every single time.
The more experienced poms members sign up to choreograph new routines. Also, by taking a more active role on the team, the underclassmen have helped to improve the current choreography with their fresh ideas. This gives underclassmen a better opportunity to master the routines.
For example, senior Angela DiFonzo, junior Jocelyn Hsueh and sophomore Jennifer Nahm choreographed the hit Halloween "Pombies' routine. Hsueh said, "By letting poms choreography routines, we get to see the amount of stress there is to make a good routine and still make it unique."
This is the second year that underclassmen have been allowed to choreograph routines for football games, which allows captains time to focus on competitions and perfect their skills.
"I think that our coach made a good choice with captains for our team and they will lead us to yet another county championship," said Nahm. With less pressure on the captains, the poms are looking to have another successful season.