Dakota Fernandez; Youth Soccer Coach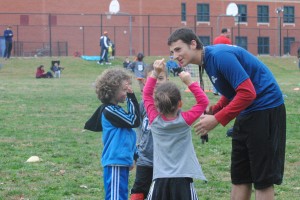 In an attempt to reach out to the community, senior Dakota Fernandez is using the opportunities given to him through the child development class at RHS by coaching a local team in the i9 youth soccer league.
Fernandez's team is in the i9 league for central Montgomery County and consists of players from five to 11 years old. i9 is one of the fastest growing sports league franchises in the U.S. and they make sure all of their coaches are qualified. Fernandez does not have prior experience in playing soccer or coaching, but his kindness towards children and ability to work with his team's other coaches allows them to create team bonding and teach the young athletes soccer fundamentals.
Child development teacher Julie James gives teenagers the experience of taking care of children before they have one of their own. It is an elective that many students take at some point during their time in high school. "I really like seeing the high schoolers interact with the little kids," said James. "It's like the best of both worlds."
The students enrolled in Child Development do many different tasks, from taking younger kids to the aquarium to looking after and caring for a realistic model baby. Upon completion of the first year, the teachers are helpful at getting their students internships at elementary schools to further their learning about childcare.
After the completion of the Child Development course, students receive the state of Maryland's certification for childcare. This document qualifies students to take care of kids in activities ranging from babysitting to running a youth summer camp. Fernandez said, "I wanted to use what I learned and if you have a little patience, teaching kids soccer is fun."
I9 sports are mainly for recreation, so Fernandez is primarily focused on having fun with the kids. Soccer is one of the most common sports for children in the U.S. to play. At their age, they are usually encouraged to play soccer by their parents or they just want to play a sport with their friends. The players are not too competitive with each other so the coaches try to make the games and practices have a fun and educational atmosphere.
Fernandez is taking his experiences from Child Development seriously. Fernandez said, "I hope I am able to use everything I learned to be a good dad in the future."