President Obama Wins Re-Election in Big Fashion Against Governor Romney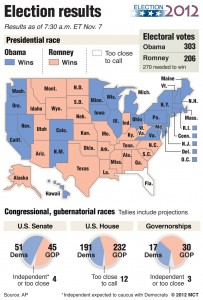 President Barack Obama was re-elected for a second term with 303 electoral votes, defeating Former Mass. Governor Mitt Romney who obtained 206 electoral votes. Obama surpassed the 270 necessary electoral votes after winning Ohio, a key battleground state.
Despite the gap between electoral votes, the two candidates were extremely close in terms of the popular vote. According to NBC, Obama won roughly 50 percent of the popular vote while Romney won 48 percent.
Early on in the race, it became apparent that the swing states could sway the election. The candidates focused much of their campaigns in battleground states. Obama ending up winning Nevada, Colorado, Iowa, Wisconsin, Ohio, Virginia and Pennsylvania after incredibly close races. Currently, Florida's votes have not been officially declared to any candidate.
Television networks projected Obama as the winner at 11:20 p.m. as votes were still being counted. Initially, Romney refused to concede the election to Obama and prepared his staff to contest some of the closer races. After realizing that his path to winning was only narrowing regardless of contesting, Romney conceded around 1:00 a.m.
"His supporters and his campaign also deserve congratulations," said Romney in his concession speech. "This is a time of great challenges for America, and I pray that the president will be successful in guiding our nation."
In the congressional elections, Democrats held onto their Senate majority and Republicans maintained their majority in the House. Republicans lost two seats in the Senate and House while Democrats gained seven.
Obama's re-election can be attested to many voting groups. He maintained a strong support from female and African-American voters, his support increased among Hispanic voters and younger voters had strong turnout in swing states.
Obama remains optimistic towards the future in the light of his victory. "a��Tonight, despite all the hardship we've been through, despite all the frustrations of Washington, I've never been more hopeful about our future," said Obama in his re-election speech. "I have never been more hopeful about America. And I ask you to sustain that hope."