Summer Two-a-days Are History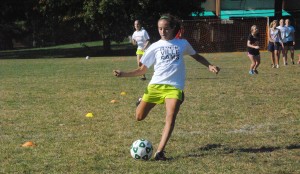 Fall sports teams are forced to begin this year's season without the usual two-a-day practices because of new regulations put in place throughout the entire country. Teams were able to practice twice a day in the summer before the rule change
The U.S. enacted the policy because of medical issues. Since the beginning of the fall sports season is in August, these first practices are some of the hottest of the year and can lead to an increased chance for heat strokes and fainting. Athletic Director Michael Hayes said, "Safety first policy is always a good thing."
MCPS agrees with the new policy, saying that having two practices a day in such conditions is too dangerous, especially when heat-related problems are a real concern in Maryland. Over the past 15 years, there have been approximately 30 heat-related deaths to Maryland high school athletes during or because of school sports practice, including the death of Northwest High School sophomore Edwin Miller in 2009.
The U.S. changed the rule to protect the students, but also because the parents of the affected students could take legal action against the school systems. These parents think that the coaches put too much importance into winning and could have done more to ensure the safety of their athletes.
Football captain senior Rajesh Sharma commented on how it will impact the ports teams' readiness for the upcoming season. "I am disappointed that we were not able to have two-a-days this year," said Sharma, "I think that they really help unite our team and prepare us for the season."
Though athletes think that the lack of two-a-days will affect their record and performance in the regular season, this new policy is enforced with all of their competitors as well. All fall sports teams in the U.S. will have to think of new ways to prepare for their season.
Other students, including varsity soccer player senior Juan Herrera, see the benefits of not doing two-a-days. Herrera said, "It is just too hot to practice twice a day in august."
Along with these new rules for two a days, the U.S. also changed the rules regarding when sports players are allowed to wear pads. Now, instead of starting to wear all their pads on one day, athletes increase the amount of gear they wear as the summer practices go on. The U.S. wants players to get acclimated to the heat first to further reduce the chance of an injury.