Veteran Head Coach Continues to Motivate Boys Soccer this Season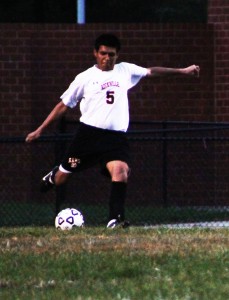 As the Rams hit the soccer field again, the spirit is the same and so is the goal, to improve and win, that is what Coach Abdel Makhlouf has in mind for this season in the midst of changes and a renovated lineup.
"It is a new team so my expectations are not as high as previous years. All I am hoping this year is to have good soccer, attractive soccer," said Makhlouf. "We want to work on the basics so we can compete."
And compete they will, according to senior defender Henry Mata. "This year the varsity soccer team is completely new and there's a lot of potential to improve and hopefully we'll improve throughout the season and get some wins".
Gone is midfielder Christian Porras who continues to make RHS proud by playing for the University of Connecticut Huskies, the #3 ranked Men's NCAA Division 1 soccer team. Porras worked closely with Coach Makhlouf: "Christian played four years varsity, very talented player and top scorer we miss him a lot" said Makhlouf.
The Rams now look forward and work hard so they can meet the high expectations set by Coach Makhlouf. "He's really helped me work on my overall game; my conditioning has also gotten a lot better under him," said senior defender Juan Herrera. "He can easily pick out our weak spots and make improvements fast". That makes the squad optimistic about the road ahead.
Although the team has had a rough start after reaching the second round of the playoffs last season, this time around the challenge is different. Last year's team was dominated mainly by seniors. This could create problems now because seniors are usually more physically mature and their loss may be profound. Coach Makhlouf said, "Seniors are stronger and faster and have been with me for a long time so they know the system." The loss of these seniors will have a big impact on the team.
The team is working on implementing a new offensive system this season. Coach Makhlouf wants the team to use the system while competing and playing attractive soccer. The Rams also want a return to the playoffs this season but will keep their expectations grounded. Midfielder Steven Fonseca captured the team outlook when he said, "The team needs improvement but we'll see our way through it."