New Teachers Make Transition from Middle to High School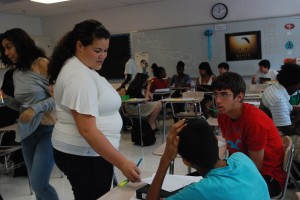 Some middle school teachers took the challenge of teaching a higher grade and are ready to begin their new careers at RHS. This year, RHS has six new teachers coming from middle schools. Many of the new teachers are enthusiastic about their grade change.English teacher Dana Sato taught middle school for four years before coming to RHS. "I have been wanting to teach high school for a while'so this is where I want to be," said Sato. She is enjoying her new teaching experience and says that there is not much of a change since she came from Earle B. Wood, which is somewhat similar to RHS.
According to the new teachers, high school students are more mature than middle school students. Because of the different maturity levels, they find their new students are easier to teach, allowing the teachers to teach more enjoyable and advanced material.
Students do not think that there is that big of a difference between their experienced high school teachers and the new teachers coming from middle school. "Ms. Sato interacts with the students the same way that any other teacher does at Rockville," said sophomore Tatiana Orantes.
While Sato and science teacher Jeff Grandin are having a great start to the new year, they also miss their old positions at the middle schools they taught at. The teachers do prefer high school students, but they miss their younger students.
Grandin taught in high school, then in middle school and went back to teaching in high school. "I like the attentiveness level of the [high school] students and the energy is much calmer," said Grandin.
The teachers currently plan on continuing to teach in high school. They are enjoying their time at RHS so far and are looking forward to the rest of the year in their new careers.