Positive Role Models; Ambassadors Hope to Make Difference For All Students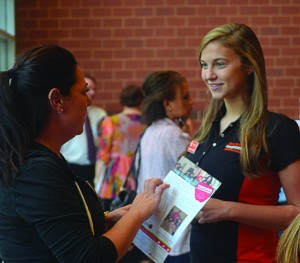 Recently, the Ambassadors Program has grown in popularity because of the program's reputation and its enthusiastic new students. The main purpose of the program is to welcome new visitors and guide them around the school.
A few years ago, the program only had eight students. However, as it is becoming more renowned, the number of students in the Ambassador Program has increased to 54 members. But the program's recognition is not the only reason for the sudden rise in members.
The Ambassador Program consists of a group of students who display interest in RHS. After wanting to help out the school, students must get two recommendations from staff members and then write a reflective essay. Later, they wait to see if they have been accepted to the program.
Students are first selected from staff members and then they have to write an essay reflecting on how they would benefit the school. A new member to the program, sophomore Sophia Dillon, said, "The essay was not necessarily hard, it was just difficult to consider how I have helped people in the past."
Another factor that impacts the number of members is that students realize how being in the program can be helpful when applying to different colleges. The program is especially beneficial to members who aspire to become an ambassador for their future college or university.
Even though the program is meant to be helpful, some RHS students dislike it. Freshman Brandon Geddes has had many encounters with the members of the program and found them to be unhelpful and unnecessary.
After freshman orientation this past summer, Geddes concluded that the Ambassadors were not much help. "After being lost, I realized they didn't know what they were doing. They didn't help me much," said Geddes.
Views of the ambassadors differ among members of the community. Freshman Hunter Kline said, "I have faith in the ambassadors to help direct me around the school. They're beneficial because they eliminate confusion." Having the ambassadors at different events helps reduce the chance of getting lost, especially if someone is not familiar with RHS.
Even though the school year started just weeks ago, the ambassadors have already assisted in events. Before school had even begun, the ambassadors were at RHS welcoming the new freshman class at freshman orientation. The students also gave directions to parents at back to school night. Ambassadors will be at most school events welcoming and guiding newcomers to RHS.
Colleges feature many different criteria when evaluating students; in particular they look for students who remain actively involved in the community and tend to stand out amongst others. RHS students in the Ambassadors Program display characteristics and outstanding qualities that are positive when being considered by these schools.