Bump, Set and Spike; New Head and Assistant Coach Kick off Volleyball Season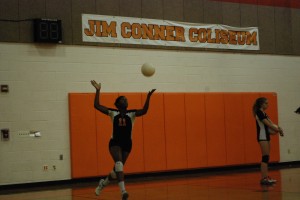 This year, the team is led by new head coach, English teacher Sean Pang and assistant coach, math teacher Jason Li. Pang and Li have played volleyball for over 10 years and both played throughout college. Pang played at University of Maryland Baltimore County and Li played at the University of Maryland, College Park.
Senior volleyball player Rachel Ribaudo said, "We're a lot more organized than last year because the coaches have played for a long time and really know the fundamentals." The coaches work well together and represent their passion for the sport every day. The two coaches use their experience and knowledge of the game to pass down this passion to the girls on the team.
Pang coached boys' volleyball at RHS last spring but this is his first time coaching girls. After recognizing the different dynamics of girls' volleyball, Pang presented the team with different activities for team bonding. These activities allow the girls a chance to get to know each other.
The team currently consists of seven juniors and seven seniors. With the loss of eight seniors last year, the team had many spots to fill. Senior captain Kayla Johnson said, "At first we don't really know each other's strengths and weaknesses, but bonding really helps with communication."
With so many new members to varsity, bonding really plays a vital role in the team's chemistry both on and off the court. The team organized a preseason party to kick off their season, followed by a zip-lining adventure as a fun way to break the ice. Johnson said, "The bonding really does make a difference. We all feel a lot more comfortable with each other." After establishing that level of comfort, the girls can focus all their energy on the game.
Pang has also noticed a positive influence on the team's performance following team-building activities. Pang said, "The bonding really brought the team together. There are a lot of laughs but they also know when to get serious." The girls truly are dedicated to the sport and hope to see their hard work pay off.
With a tough game schedule, the team is off to a rocky start with one win and two losses but the girls see a lot of potential for the remainder of the season. The team is confident in both their physical strength and their communication skills on the court and they hope to come out on top in games to come.